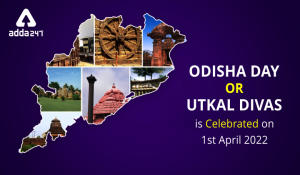 Utkal Divas or Utakala Dibasha or Odisha Day is celebrated on April 1st every year to remember the formation of the Odisha state after a struggle to be recognised as an independent state. The state was originally called Orissa but the Lok Sabha passed the Orissa Bill, and Constitution Bill (113rd amendment), in March 2011 to rename it Odisha.
Buy Prime Test Series for all Banking, SSC, Insurance & other exams
The History Behind Odisha Day
History beckons that the present-day Odisha used to form a major portion of the ancient Kalinga. The region witnessed the epic "Kalinga War" led by King Ashoka who invaded and conquered the region in 260 BC. Later, the state was invaded and taken over by the Mughals till the British took over the administrative powers of the region and divided it into small units in 1803.
The western and northern districts became a part of the state of Bengal while the coastal region formed the basis of Bihar and Odisha (then known as Orissa). After decades of struggle under the leadership of Odisha's eminent leaders, the new province came into existence on the 1st of April 1936. The state saw another facelift, now in terms of its name being changed from Orissa to Odisha.
More about Odisha:
The earlier capital city of Odisha was Cuttack whereas the current capital city is Bhubaneswar. In terms of tribal population, Odisha is the 3rd state in the country. Various rulers ruled the state. More than 31% of the state has been covered with forests. On 9 November 2010, the Parliament of India renamed Orissa as Odisha. Oriya language was also retitled as Odia.
Important takeaways for all competitive exams:
Odisha Capital: Bhubaneswar;
Odisha Governor: Ganeshi Lal;
Odisha Chief Minister: Naveen Patnaik.