Prime Minister Shri Narendra Modi recently marked a historic day in Pithoragarh, Uttarakhand, as he laid the foundation stone and dedicated several development projects worth approximately Rs 4200 crore. These initiatives spanned various sectors, including rural development, road infrastructure, power generation, irrigation, drinking water supply, horticulture, education, healthcare, and disaster management, among others.
Pooja at Parvati Kund
Before addressing the audience, Prime Minister Modi performed pooja and darshan at Parvati Kund, seeking blessings for the good health of all Indians and the realization of the aspirations of the people of Uttarakhand. He emphasized the importance of strengthening the resolve for a developed India.
Prime Minister's Emphasis on Border Area Infrastructure and Welfare Initiatives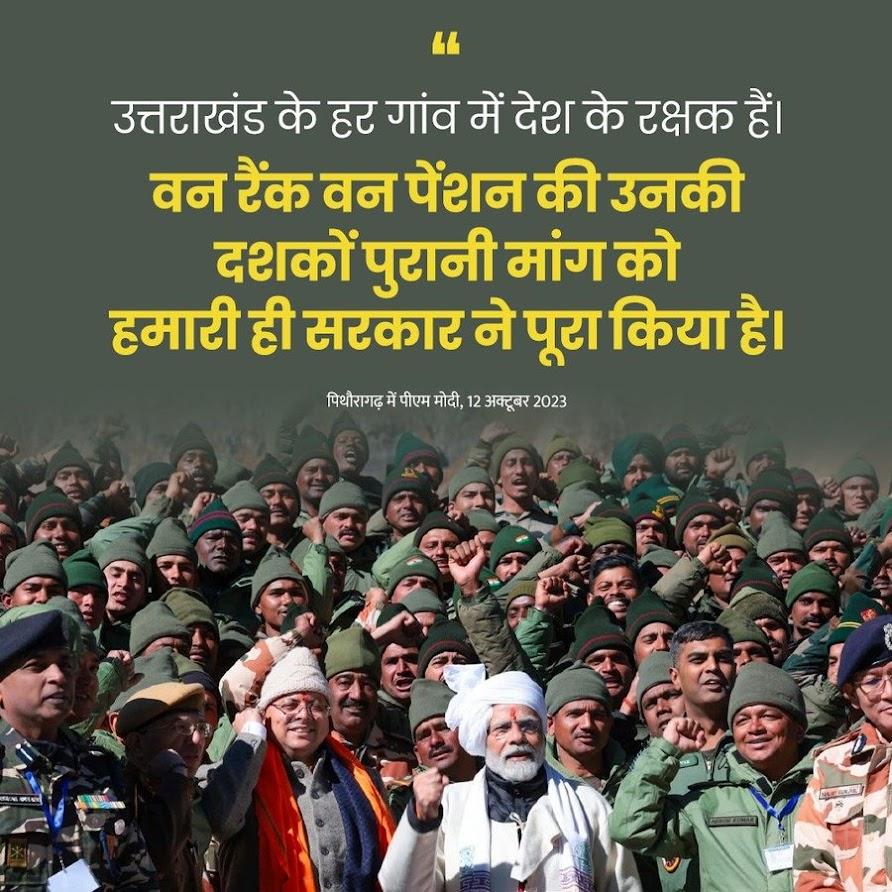 The Prime Minister highlighted the extensive infrastructure development in border areas, with over 4,200 km of roads, 250 bridges, and 22 tunnels constructed in the last nine years. These initiatives aim to bolster India's defenses and promote the welfare of the people residing in these areas.
He noted the government's fulfillment of the long-standing demand for One Rank One Pension (OROP) for former soldiers, benefiting more than 75,000 families. The development of new services in border areas is progressing rapidly, with a focus on infrastructure and security.
Empowering Small Farmers: PM Kisan Samman Nidhi
The Prime Minister highlighted the government's commitment to the welfare of small farmers in Uttarakhand. Under the PM Kisan Samman Nidhi scheme, farmers in the state have received more than Rs 2200 crore. The financial support is aimed at improving the lives of small farmers and ensuring their prosperity.
Promoting Unique Uttarakhand Crops: Shri Anna
Shri Anna, a traditional crop of Uttarakhand, was mentioned as a valuable asset to be taken to the world. A nationwide campaign has been initiated to promote this crop, which will significantly benefit the small farmers of Uttarakhand.
Women-Led Development: A Focus on Empowerment
Various initiatives have been launched to uplift women, including providing permanent houses, building toilets, offering gas connections, opening bank accounts, providing free treatment, and distributing free rations.
The Har Ghar Jal Yojana has provided piped water to 11 lakh families in Uttarakhand. Additionally, the government has introduced drones for women's self-help groups, which are expected to modernize agriculture and transportation.
Tourism and Pilgrimage Development
The Prime Minister highlighted the success of the government's efforts in boosting tourism and pilgrimage in Uttarakhand. The Char Dham Yatra is now attracting around 50 lakh devotees, and significant reconstruction work has been completed in Kedarnath Dham and is underway in Shri Badrinath Dham. Ropeways in Kedarnath Dham and Hemkunt Sahib will enhance accessibility. The Manaskhand Mandir Mala Mission aims to make temples in the Kumaon region easily accessible to devotees.
Enhancing Connectivity and Infrastructure
The Prime Minister underscored the government's focus on enhancing connectivity, including the Chardham Mega Project, All Weather Road, and the Rishikesh-Karnprayag rail project. The UDAN scheme aims to expand affordable air services in the region, and several road projects are set to improve convenience for the public and boost tourism.
Preparing for Natural Disasters
Acknowledging Uttarakhand's vulnerability to natural disasters, the Prime Minister announced a plan to spend 4000 crore rupees on projects over the next 4-5 years to prepare for such events. These facilities will ensure quick relief and rescue operations in the event of a disaster.
Inaugurated Projects
Rural Roads and Bridges (PMGSY):
A total of 76 rural roads and 25 bridges were constructed in rural areas under the Pradhan Mantri Gram Sadak Yojana (PMGSY). These vital infrastructure improvements connect remote villages and facilitate better access for the local populace.
BDO Offices Upgradation:
Fifteen Block Development Office (BDO) buildings across nine districts were upgraded, providing government officials with better facilities to serve their communities effectively.
Central Road Fund Upgradation:
Three roads funded by the Central Road Fund were upgraded. This includes the Kausani-Bageshwar road, Dhari-Dauba-Giricheena road, and Nagala-Kiccha road, improving road connectivity and transportation efficiency.
National Highways Upgradation:
Two National Highways, Almora Petshal – Panuwanaula – Danya (NH 309B) and Tanakpur – Chalthi (NH 125), underwent improvements, enhancing the connectivity of Uttarakhand with the rest of the country.
Drinking Water Projects:
Several drinking water projects were initiated, including 38 pumping drinking water schemes, 419 gravity-based water supply schemes, and three tube well-based water supply schemes, ensuring a reliable source of clean water for residents.
Tharkot Artificial Lake:
The construction of Tharkot artificial lake in Pithoragarh enhances the region's natural beauty and promotes tourism.
Power Transmission Line:
A 132 KV Pithoragarh-Lohaghat (Champawat) Power Transmission Line was established, improving electricity transmission and availability.
Bridges Across Uttarakhand:
Thirty-nine bridges were constructed, providing safe and efficient transportation across Uttarakhand's picturesque landscapes.
Uttarakhand State Disaster Management Authority Building:
A state-of-the-art building for the Uttarakhand State Disaster Management Authority (USDMA) in Dehradun, funded by the World Bank, bolsters disaster preparedness and recovery efforts in the state.
Foundation Stones Laid for Future Initiatives
Poly-House Scheme:
A scheme for the construction of 21,398 poly-houses is in the pipeline. This project will boost flower and vegetable production and improve product quality.
High-Density Intensive Apple Orchards:
A scheme to promote high-density intensive apple orchards will help Uttarakhand's agriculture sector.
NH Road Upgradation:
Five projects for National Highway road upgradation are planned, enhancing transportation infrastructure.
Disaster Preparedness and Resilience:
Multiple initiatives are underway to enhance disaster preparedness, including the construction of bridges, the upgradation of the State Emergency Operation Center in Dehradun, and measures to prevent landslides in Balianala, Nainital. Improvements in fire, health, and forest infrastructure are also in progress.
Model Degree Colleges:
Hostels and computer labs will be developed in 20 model degree colleges across the state, offering students improved educational facilities.
Healthcare Facilities:
A 100-bedded sub-district hospital in Someshwar, Almora, and a 50-bedded hospital block in Champawat will enhance healthcare services in the region.
Sports Infrastructure:
The construction of an Astroturf Hockey Ground at Haldwani Stadium and a Velodrome Stadium at Rudrapur will promote sports and recreational activities.
Temple Infrastructure Development:
The Manaskhand Mandir Mala Mission Scheme aims to develop infrastructure in temples, including Jageshwar Dham in Almora, Haat Kalika in Pithoragarh, and Naina Devi in Nainital.
These initiatives demonstrate the commitment of the Prime Minister to fostering growth, connectivity, and resilience in Uttarakhand, contributing to the state's sustainable development and enhancing the quality of life for its residents.