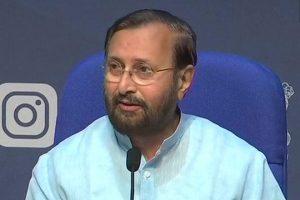 The Union Cabinet approved an ordinance amending the salary, allowances and pension of Members of Parliament Act, 1954, to reduce the allowances and pension by 30% starting April 1, 2020, for a year. All Members of Parliament (MPs), including Prime Minister Narendra Modi and his Council of Ministers, would be taking a 30 per cent salary cut due to the impact of the novel coronavirus.
Click Here To Get Test Series For SBI PO 2020
Indian President, Vice President and all state governors have voluntarily decided to take a 30 per cent salary cut for a year in view of the coronavirus outbreak and the expected downturn in the economy.
The cabinet also approved temporary suspension of MPLAD (Member of Parliament Local Area Development) fund scheme during 2020-21 and 2021-22, and the funds will be used for managing health services and the adverse impact of COVID-19 pandemic in the country. Rs 7,900 crore from the MPLADS scheme will go to Consolidated Fund of India. The Rs 10 crore from each MPLAD fund will now go to the Consolidated Fund of India for "managing health and the adverse impact of the outbreak of COVID-19 in India". India is under a 21-day nationwide lockdown to mitigate the spread of the novel coronavirus.
What is MPLADS?
The Members of Parliament Local Area Development Division is entrusted with the responsibility of implementation of Members of Parliament Local Area Development Scheme (MPLADS). Under the scheme, each MP has the choice to suggest to the District Collector for works to the tune of Rs.5 Crores per annum to be taken up in his/her constituency. The Rajya Sabha Members of Parliament can recommend works in one or more districts in the State from where he/she has been elected.
The Nominated Members of the Lok Sabha and Rajya Sabha may select any one or more Districts from any one State in the Country for implementation of their choice of work under the scheme. The Ministry has issued the guidelines on MPLADS Scheme including implementation and monitoring of the scheme. The Department has initiated all necessary steps to ensure that the scheme is successfully implemented in the field.