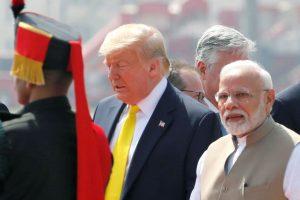 President of the United States (POTUS) Donald Trump has arrived in India on 24th February 2020. He was accompanied by the First Lady of the United States Melania Trump. With this, Donald Trump has become the first serving US President to visit Gujarat.
After his arrival, the US president was welcomed by the Indian Prime Minister Narendra Modi. After welcome, the cavalcade of US president head towards Sabarmati Ashram. After reaching the Sabarmati Ashram, the US president and the first lady of US spun the Charkha and then head towards the Motera Stadium in Ahmedabad for "Namaste Trump" event.
"NAMASTE TRUMP" Event:
Following the Sabarmati Ashram visit, both the leaders arrived at the world's largest cricket stadium "Sardar Patel Stadium" which is also known as "Motera Stadium" to attend and address the "NAMASTE TRUMP" event. The "NAMASTE TRUMP" event featured cultural performances.
Taj Mahal Visit:
Following the "NAMASTE TRUMP" event, the US delegate landed at Kheria Airport, Agra, Uttar Pradesh to visit one of the 7 wonders of the world, i.e. the iconic "Taj Mahal" in Agra. At the airport, the US President and the first lady were received by Uttar Pradesh's Chief Minister Yogi Adityanath and Governor Anandiben Patel. The US President and the first lady arrived at the iconic Taj Mahal and admired the beauty of the historical monument. After the Taj Mahal visit, the US delegates returned to Delhi for the rest of their trip.