State-owned QatarEnergy recently announced a significant development in its efforts to expand its presence in the European gas market. The company has entered into a long-term agreement with Italy's Eni to supply liquefied natural gas (LNG) for a period of 27 years.
A Pivot from Asia to Europe
This deal follows similar agreements with the Netherlands, through Shell, and France, via TotalEnergies, signed earlier this month. The agreements mark a notable shift in Qatar's traditional gas export focus towards Asia, now strengthening its foothold in Europe.
The QatarEnergy-Eni Long-Term Gas Supply Agreement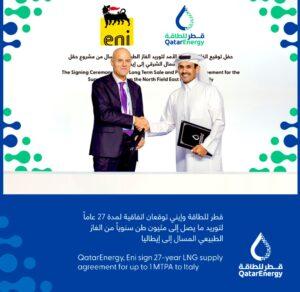 Affiliates of QatarEnergy and Eni have finalized a long-term sale and purchase agreement for the supply of up to 1 million tons per year (mtpa) of LNG. This gas will be sourced from Qatar's North Field expansion project and delivered to the Floating Storage and Regasification Unit (FSRU) Italia, located in the port of Piombino in Tuscany, Italy. This operation is scheduled to begin in 2026.
Eni's Significance in Expanding Qatar's Liquefaction Capacity
Eni's involvement in the North Field expansion project is noteworthy, as it holds a 3.125% stake in the North Field East expansion. Combined with the North Field South expansion, this project will boost Qatar's liquefaction capacity from 77 mtpa to 126 mtpa by 2027.
Qatar's Expanding European Gas Supply
Over the past two weeks, QatarEnergy has been actively strengthening its European gas supply portfolio. In addition to the deal with Italy's Eni, QatarEnergy has signed 27-year agreements with Shell and TotalEnergies, both of which are considered the company's largest and longest European gas supply contracts to date. This marks a significant shift in Qatar's LNG export strategy, which traditionally favored Asian markets.
Qatar's Commitment to Asian LNG Markets
Qatar's Asian deals include a 27-year supply agreement with China's Sinopec, signed in November for 4 mtpa, and a similar deal with China National Petroleum Corporation (CNPC), inked in June. These agreements signify a substantial commitment to supplying LNG to Asia, which has been a significant market for long-term LNG agreements.
Europe's Transition Away from Russian Gas
European Union buyers have been increasingly seeking alternatives to Russian gas, which constituted nearly 40% of their gas supply before Russia's invasion of Ukraine last year. Germany, one of the largest consumers of Russian gas in the EU, has also turned to QatarEnergy for its supply needs. QatarEnergy and ConocoPhillips signed a 15-year deal in November 2022 to provide Germany with 2 mtpa starting in 2026.
Impact on the Italian Market
Italy, already a recipient of over 10% of its natural gas needs from Qatari LNG shipments to the Adriatic terminal, is poised to benefit from this new agreement. Saad al-Kaabi, Chief Executive of QatarEnergy, expressed the commitment to the Italian market in a statement, affirming that the partnership with Eni will contribute to their shared goal of serving the European markets.
Find More News Related to Agreements