In a momentous event at the White House, US President Joe Biden recently awarded the prestigious White House National Medal for Technology and Innovation and the National Medal of Science to Ashok Gadgil and Subra Suresh, respectively, in recognition of their groundbreaking work that has not only advanced scientific knowledge but also improved the quality of life for countless individuals.
The White House National Medal for Technology and Innovation is given to leading US innovators who have left a lasting imprint on America's competitiveness, quality of life, and technological workforce.
Ashok Gadgil's Remarkable Achievements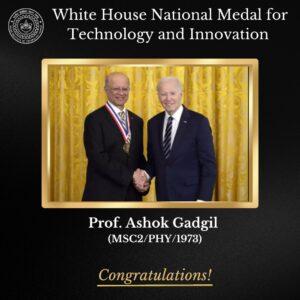 Ashok Gadgil, a Distinguished Professor Emeritus of Civil and Environmental Engineering at UC Berkeley, was honored with the White House National Medal for Technology and Innovation. Gadgil has dedicated his career to developing cost-effective solutions to some of the world's most persistent problems, particularly in developing regions.
Innovative Solutions for Developing Communities
Gadgil's work has focused on providing life-sustaining resources to communities worldwide. He has developed low-cost technologies to address pressing issues, such as safe drinking water, energy-efficient stoves, and affordable electric lighting.
Impact on Millions
Over the years, Gadgil's groundbreaking innovations have touched the lives of over 100 million people. His work has been instrumental in enhancing living conditions and addressing significant global challenges.
Berkeley Lab Recognition
Gadgil's achievement marks the 17th national medal earned by Berkeley Lab researchers and the second National Medal of Technology and Innovation. In an interview, he emphasized his commitment to leveraging scientific and engineering knowledge to create a fairer world.
Subra Suresh's Extraordinary Journey
Subra Suresh, a professor at large at Brown University's School of Engineering, was awarded the National Medal of Science, the highest honor bestowed upon scientists in the United States. Suresh's illustrious career has been marked by pioneering research across various domains, including engineering, physical sciences, and life sciences.
Academic Prodigy
Born in India in 1956, Suresh's academic journey is nothing short of remarkable. He graduated from high school at the age of 15 and went on to earn his undergraduate, master's, and Ph.D. degrees in mechanical engineering from MIT in just two years, a testament to his extraordinary talent and dedication.
Leadership at the NSF
Suresh made history by becoming the first Asian-born American to lead the National Science Foundation (NSF). His tenure at the NSF was marked by a commitment to promoting global collaboration and gender diversity in science and engineering fields.
Legacy at Brown University
After his tenure at the NSF, Suresh returned to Brown University's School of Engineering, where he initiated programs aimed at fostering global collaboration and increasing gender diversity in the fields of science and engineering. Brown University also announced a symposium in his honor, recognizing his outstanding contributions.
Inspiration for Future Innovators and the Significance of Global Collaboration
These awards not only acknowledge their outstanding achievements but also serve as an inspiration to aspiring scientists, highlighting the profound impact that scientific innovation can have on the world. The recognition of these Indian-American scientists underscores the importance of global collaboration in advancing science and technology for the betterment of humanity.