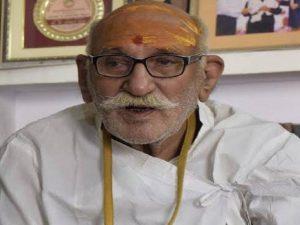 Padma Shri awardee, Prof Acharya Ram Yatna Shukla, a Sanskrit scholar and former President of Kashi Vidwat Parishad, passed away at the age of 90 years. He is popularly called as "Abhinav Panini" due to his contribution towards inventing new methods of Sanskrit Grammar and Vedanta teaching and modernisation.
Bank Maha Pack includes Live Batches, Test Series, Video Lectures & eBooks
About the Acharya RamYatna Shukla:
Acharya RamYatna Shukla, born on 15th January 1932 in Bhadohi district, Uttar Pradesh (UP), was a scholar of Sanskrit grammar and played an important role in conserving ancient and Sanskrit texts.
He was the founder of UP Nagkoop Sastrath Samiti and Sanatan Sanskriti Samvardhan Parishad, which are engaged in the uplifting of Sanskrit language and moral values of society.
He also served as the Head of Department (HOD) and Dean at Sampurna Nand Sanskrit University, Varanasi, UP.
He served as the Principal, Lecturer, Reader and Visiting Professor of prominent institutes of India such as Banaras Hindu University (BHU) in Varanasi(UP), French Institute of Indology in Puducherry, Lal Bahadur Shastri University in New Delhi.
Awards:
He was honoured with more than 25 awards including the Keshav award, Vachaspati Award, and Vishwabharti award. He has been conferred the title of "Mahamahopadhye". He was awarded Padma Shri in 2021 for his immense contribution in social work. He has authored several books and research papers. One of his key publications is "Vyakaran Darshne Shristi Prakriya Vimarsha".