HCLTech founder Shiv Nadar and his family have retained the top spot on the EdelGive Hurun India Philanthropy List 2023. For the fiscal year 2022-23, they made a substantial donation of Rs 2,042 crore, marking the fifth consecutive year that Nadar, aged 78, has claimed this distinguished rank.
Azim Premji's Remarkable Leap and Young Philanthropist's Debut
Wipro founding chairman Azim Premji and his family secured the second position with a noteworthy donation of Rs 1,774 crore. Notably, Premji's philanthropic contribution witnessed a significant surge of 267% compared to the previous year. Furthermore, the list welcomed its youngest philanthropist, Nikhil Kamath, who made a generous donation of ₹110 crore during FY22-23.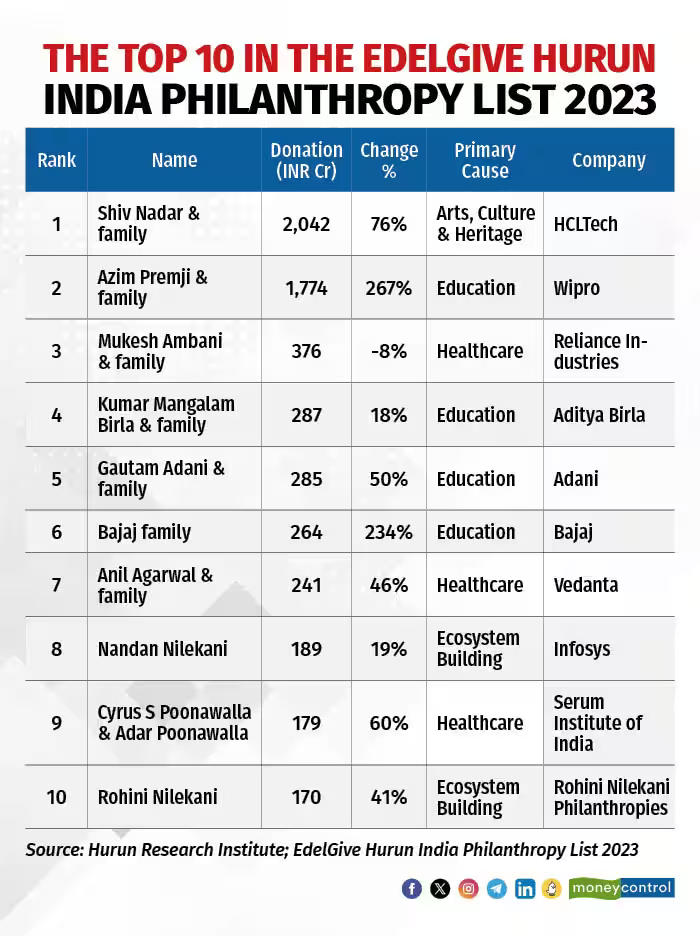 Leading Philanthropists:
| Rank | Name | Donation (in Crores) |
| --- | --- | --- |
| 1 | Shiv Nadar and Family | Rs 2,042 |
| 2 | Azim Premji and Family | Rs 1,774 |
| 3 | Mukesh Ambani and Family | Rs 376 |
| 4 | Nikhil Kamath | Rs 110 |
| 5 | Gautam Adani and Family | Rs 285 |
| 8 | Nandan Nilekani | Rs 189 |
| 9 | Cyrus Poonawalla and Adar Poonawalla | Rs 179 |
| 10 | Rohini Nilekani | Rs 170 |
Philanthropy on the Rise
According to the EdelGive Hurun India Philanthropy List 2023, a remarkable 119 Indians made donations exceeding ₹5 crore during the year. This figure represents a notable 59% increase from the previous year and a remarkable 200% surge compared to the period three years ago. A total of 14 individuals from India showcased their extraordinary generosity by contributing more than ₹100 crore. Additionally, 24 individuals donated over ₹50 crore, reflecting a 100% increase, and 47 individuals gave more than ₹20 crore.
Areas of Impact: Education, Arts, Culture, and Healthcare
The philanthropic contributions in the past year were distributed across various sectors, with a staggering sum of ₹1,547 crore dedicated to the field of Education, making it the most preferred recipient of philanthropic generosity. Arts, Culture, and Heritage received donations worth ₹1,345 crore, further underlining the value placed on preserving and promoting India's rich cultural heritage. Healthcare also remained a prominent focus, with ₹633 crore allocated to this critical sector.
Diverse Philanthropic Landscape
The list also sheds light on the diverse philanthropic landscape, revealing that the pharma industry boasts the highest number of philanthropists, accounting for 17% of the list. The Chemicals and Petrochemicals sector follows closely behind, with 11% representation among the leading philanthropists.
This year's EdelGive Hurun India Philanthropy List emphasizes the growing spirit of giving in India and the significant contributions made by individuals and families across various sectors, ultimately contributing to the betterment of society.
Find More Ranks and Reports Here