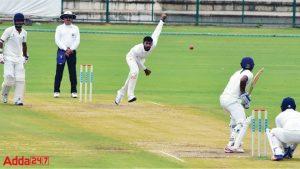 Sikkim will host three Ranji trophy matches for the first time in December. The state will welcome three northeast teams: Mizoram, Manipur and Arunachal Pradesh, at the Mining Cricket Ground near Rangpo. The BCCI's decision to allow Sikkim to host three of its Ranji matches at home will act as a game-changer in cricket's promotion in Sikkim. Along with Ranji Trophy matches, Sikkim will also play two Cooch Behar Trophy matches, and three Col CK Nayudu Trophy matches at Mining.
Bank Maha Pack includes Live Batches, Test Series, Video Lectures & eBooks
The Cooch Behar Trophy match on November 12 against Assam will be the first major domestic match in Sikkim. After two back-to-back multi-day men's under-19 matches, cricket fans in the state will enjoy a Ranji Trophy match in Sikkim for the first time on December 13, when the senior men's team take on Manipur in the 2022-23 Ranji Trophy opener.
Notably:
Sikkim and eight new states made its way into Ranji Trophy and other premier domestic cricket tournaments in 2018. However, due to the lack of a cricket ground, Sikkim had been playing at neutral venues. The development of the Mining ground into a venue worthy of hosting standard cricket tournaments had kindled SCA's hopes of holding Ranji matches. But then Covid-19 struck, and the BCCI decided to hold matches in select venues to ensure a bio-secure environment when domestic cricket returned the following year.