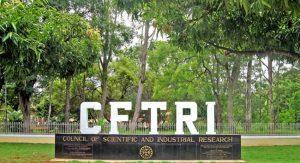 In order to boost immunity during pandemic, Spirulina groundnut Chikki has been developed by the Mysuru-based Central Food Technological Research Institute (CFTRI). The Spirulina groundnut Chikki can provide micro-nutrients along with boosting immunity of the people during this time of pandemic. The Spirulina groundnut Chikki comprises of micro-nutrients such as Vitamin A, Beta Carotene and easily digestible algal proteins.
Click Here To Get Test Series For SBI PO 2020
The Spirulina groundnut Chikki made by CFTRI has been distributed to migrant labourers in Bengaluru and surrounding areas with an aim of boosting their immunity in this time of COVID-19 pandemic.
Find More Miscellaneous News Here