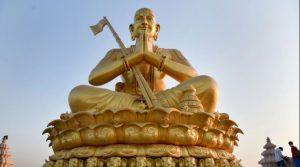 Prime Minister Narendra Modi has dedicated to the nation 216-feet tall 'Statue of Equality in Hyderabad to commemorate the 11th-century Bhakti saint Ramanujacharya. The statue has been conceptualised by Chinna Jeeyar Swami of Sri Ramanujacharya Ashram. The inauguration of the statue is a part of the 12-day Sri Ramanuja Sahasrabdi Samaroham, the ongoing 1000th birth anniversary celebrations of the Bhakti saint. A 3D presentation on the life and teachings of the saint will also be showcased during the event.
Buy Prime Test Series for all Banking, SSC, Insurance & other exams
Structure of the Statue:
The statue is made of 'panchaloha', a combination of five metals- gold, silver, copper, brass, and zinc. It is among one of the tallest metallic statues in sitting positions in the world.
The 216-feet tall 'Statue of Equality statue is mounted on a 54-feet high base building, called 'Bhadra Vedi'.
The floors of the building are dedicated to a Vedic digital library and research centre, ancient Indian texts, a theatre, an educational gallery detailing works of Sri Ramanujacharya.
Divya Desams
The monument will be surrounded by 108 `Divya Desams' of Sri Vaishnavism tradition (model temples) like Tirumala, Srirangam, Kanchi, Ahobhilam, Bhadrinath, Muktinath, Ayodhya, Brindavan, Kumbhakonam and others. The idols of deities and structures were constructed in the shape at the existing temples. The idols were also painted.
The base building, which was 16.5 mts tall, had a meditationhall where a 54 inch statue of Ramanujacharyulu made of 120 kg gold, representing the years he lived, will be inaugurated by President Ramnath Kovind by performing the first puja on February 13. The inner sanctorum deity was meant for daily worship by people.
About the Ramanujacharya:
Ramanuja or Ramanujacharya was an Indian philosopher, Hindu theologian, social reformer, and one of the most important exponents of the Sri Vaishnavism tradition within Hinduism. His philosophical foundations for devotionalism were influential to the Bhakti movement. Ramanujacharya promoted the idea of equality in all aspects of life including faith, caste and creed.