In a recent clarification, the Supreme Court of India emphasized that its directive, issued in the 2021 order, banning the use of barium and other prohibited chemicals in firecrackers applies not only to the National Capital Region but to the entire country.
Supreme Court's Directive Binding on Every State
This clarification arose during the hearing of an application seeking compliance from the Rajasthan government regarding the apex court's orders, underscoring that these directives are binding on every state in India.
Background: SC Orders on Firecrackers
In October 2018, the Supreme Court took a significant step by imposing a ban on the production and sale of all crackers except 'green crackers' and those designed to emit reduced emissions, commonly referred to as improved crackers.
The court also prohibited the manufacture and sale of 'joined crackers,' which are long rows of crackers joined together.
Supreme Court Rejects Plea for Barium Use and Joined Crackers in Fireworks
Additionally, the use of barium salts in fireworks was banned, and it was mandated that the noise levels of the crackers should adhere to permissible limits.
In a decision this September, the Supreme Court rejected a plea by the firecracker manufacturers' association to permit the use of joined crackers and to incorporate barium with improved additives in green crackers.
National Green Tribunal's 2020 Ban and SC's Reiteration in 2021
In 2020, the National Green Tribunal had already banned the sale and use of all types of firecrackers in the National Capital Region.
It specified that green crackers would only be allowed in cities and towns where air quality was moderate or poor.
The Supreme Court reiterated this directive in its order on October 29, 2021, reinforcing the commitment to curbing air pollution caused by firecrackers.
Composition of Firecrackers: Understanding the Chemistry
Firecrackers typically comprise four main ingredients: oxidizer, fuel, coloring agents, and binder.
The oxidizer is essential for ignition, the fuel sustains the fire, coloring agents provide visual effects, and the binder holds the mixture together until the cracker burns out.
Chemicals like barium, categorized as coloring agents, were banned due to their adverse effects on human health, including respiratory tract irritation, skin allergies, breathing difficulties, and potential cancer risks.
Various colors in a cracker result from different compounds, such as aluminum, magnesium, titanium (white), carbon or iron (orange), sodium compounds (yellow), copper compounds (blue and red), and barium mono chloride salts or barium nitrate or barium chlorate (green).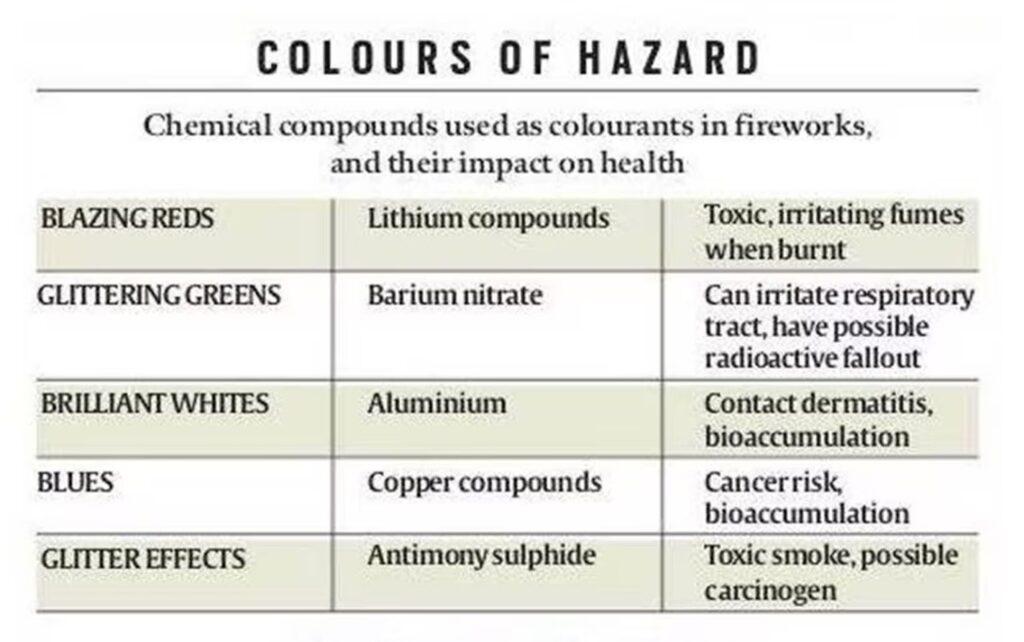 Green Crackers: A Sustainable Alternative
The concept of green crackers emerged in 2018, signifying crackers that do not contain harmful chemicals causing air pollution.
These eco-friendly alternatives were developed through extensive research by a network of CSIR labs.
These labs include Central Electro Chemical Research Institute (CECRI), Indian Institute of Chemical Technology, National Botanical Research Institute, and National Chemical Laboratory.
SWAS, SAFAL, and STAR Categories Promoting Environmental Safety
Green crackers, falling into three broad categories – SWAS, SAFAL, and STAR, emit fewer harmful chemicals and release water vapor, acting as a dust suppressant.
SWAS, or "safe water releaser," releases a small water pocket in vapor form upon bursting, suppressing dust.
SAFAL, or safe minimal aluminum, minimizes aluminum usage, substituting it with magnesium, resulting in less noise compared to traditional crackers.
STAR, or "safe thermite cracker," eliminates potassium nitrate and sulfur, emitting reduced particulate matter and lower sound intensity.
Banning Harmful Chemicals for a Safer, Greener Festive Season
The Supreme Court's unwavering stance on banning harmful chemicals in firecrackers reflects its commitment to environmental conservation and public health, promoting the adoption of eco-friendly alternatives for a safer and cleaner festive season.