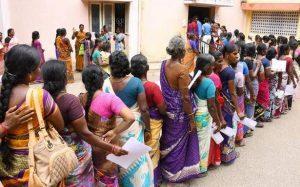 According to the data provided by Ministry of Finance to Rajya Sabha, Tamil Nadu has topped the list of Pradhan Mantri Mudra Yojana (PMMY) in availing loans to women. It was followed by West Bengal and Karnataka. According to the data produced by the Ministry of Finance, around 15 crore loans amounting to Rs 4.78 lakh crores were disbursed to women borrowers since the inception of Pradhan Mantri Mudra Yojana.
WARRIOR 3.0 | Banking Awareness Batch for SBI, RRB, RBI and IBPS Exams | Bilingual | Live Class
As of March 31, 2020, Tamil Nadu had availed Rs 58,227 crores. The loans provided by other states are as follows
West Bengal: Rs 55,232 crores
Karnataka: Rs 47,714 crores
Bihar: Rs 44,879
Maharashtra: Rs 42,000 crores
All the above states have received 52% of MUDRA loans for women. The loans were availed to activities allied to agriculture, services, trading, processing, manufacturing, etc. Of the total number of loans provided under MUDRA scheme, 70% of borrowers were women.
About Pradhan Mantri MUDRA Yojana
Pradhan Mantri MUDRA Yojana was launched in 2015 to provide loans to non-corporate, small and micro-enterprises. Under the scheme, loans up to Rs 10 lakhs are provided. The loans are given by Regional Rural Banks, Commercial banks, Small Finance Banks, Non-Banking Financial Corporations, Micro-Financial Institutions.
Find More Ranks and Reports Here