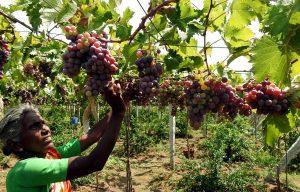 The famous Cumbum Panneer Thratchai or Cumbum grapes from Tamil Nadu have recently been granted the Geographical Indication (GI) tag. The Cumbum valley in Tamil Nadu is popularly known as the 'Grapes City of South India' and is known for cultivating the Panneer Thratchai or Muscat Hamburg variety, which constitutes around 85% of the grape-growing regions in Tamil Nadu.
Buy Prime Test Series for all Banking, SSC, Insurance & other exams
History and Health Benefits:
The Panneer grapes were first introduced in Tamil Nadu by a French priest in 1832.
These grapes are rich in vitamins, tartaric acid, and antioxidants, reducing the risk of some chronic diseases.
They are also known for their superior taste.
Benefits of Geographical Indication (GI) Tag
A Geographical Indication (GI) tag is a form of intellectual property right that indicates the origin and quality of a product that is produced in a specific geographic region. The primary objective of a GI tag is to protect the traditional knowledge, cultural heritage, and reputation of the product, as well as to promote its economic value. Some of the benefits of having a GI tag are:
Protection against imitation and misuse: A GI tag ensures that the product produced in a specific region is protected against imitation and misuse. It prevents others from using the name of the product or the region to promote their products and protects the reputation and authenticity of the product.
Quality assurance: A GI tag provides an assurance of the quality and authenticity of the product to the consumers. It ensures that the product is produced using traditional methods and adheres to certain quality standards.
Increased marketability: A GI tag increases the marketability of the product by giving it a unique identity and making it more attractive to consumers. It also opens up new marketing opportunities, both nationally and internationally.
Economic benefits: A GI tag can contribute to the economic development of a region by promoting tourism, generating employment opportunities, and increasing the income of local communities.
Preservation of traditional knowledge: A GI tag helps to preserve the traditional knowledge and cultural heritage associated with the product. It also encourages the use of traditional methods and practices, which are often more sustainable and eco-friendly.
In summary, a GI tag provides protection, quality assurance, marketability, economic benefits, and helps preserve traditional knowledge associated with the product.
You may also read this:
In a first, Kerala adopts Water Budget to tackle problem of summer water shortage