Negotiations between the UK and India for a free trade agreement (FTA) are currently underway, with a key unresolved issue revolving around the level of protection for Geographical Indication (GI) products from the agricultural sector. The UK seeks heightened safeguards for its GIs, including renowned items like Scotch whisky, Stilton cheese, and Cheddar cheese.
Geographical Indication (GI) Products Defined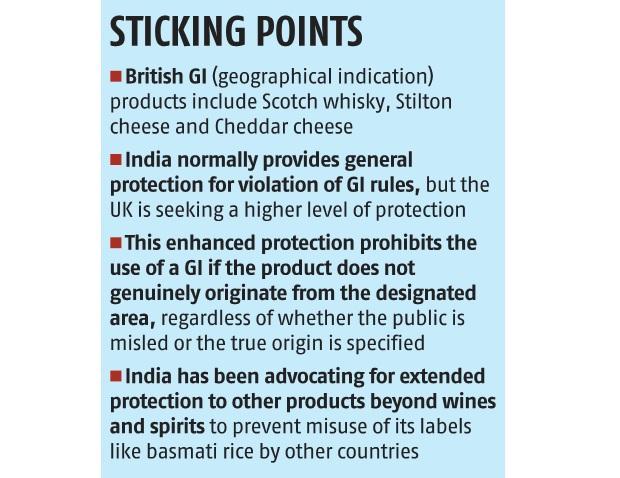 GI products, such as Scotch whisky and certain cheeses, are those whose quality and distinctiveness are attributed to a specific geographical origin.
Once a product receives GI status, others cannot sell a similar item under the same name.
UK's Demand for Higher GI Protection
The UK is pushing for a higher level of GI protection than what India traditionally provides.
The negotiations include discussions on the intellectual property rights (IPRs) chapter, and the UK desires an elevated level of safeguarding for its GIs.
TRIPS and Enhanced GI Protection
The Trade-Related Aspects of Intellectual Property Rights (TRIPS) framework, established by the World Trade Organisation, outlines an advanced level of protection for GIs.
This includes prohibiting the use of a GI if the product doesn't genuinely originate from the designated area.
The UK aims to extend this higher protection beyond wines and spirits to include products like cheeses.
Indian Perspective on GI Protection
Indian legislation currently does not differentiate between wines and spirits and other products concerning GI protection.
India advocates for extended protection to prevent misuse of labels like Basmati rice by other countries.
Balancing Mutual Benefits
Experts suggest that for a balanced and reciprocal trade relationship, if the UK wants higher GI protection for its products, it should reciprocate by offering similar protection to Indian products.
This approach could potentially open new markets and enhance the global standing of Indian goods.
Concerns and Potential Impact
There are concerns that higher GI protection for products like cheese may create challenges for Indian companies, such as Amul.
Experts caution against conceding to the UK's demands unless there is reciprocal agreement in other areas.
Indian GI Products at Stake
Notable Indian goods with GI tags include Basmati rice, Darjeeling Tea, Chanderi Fabric, Mysore Silk, Kullu Shawl, Kangra Tea, Thanjavur Paintings, and Kashmir Walnut Wood Carving.

Find More International News Here