The Indian Ocean Rim Association (IORA) recently convened its Council of Ministers meeting in Colombo on October 11, drawing interest from countries worldwide. With 23 member nations and 11 dialogue partners, IORA plays a crucial role in fostering regional cooperation around the Indian Ocean.
Formation of IORA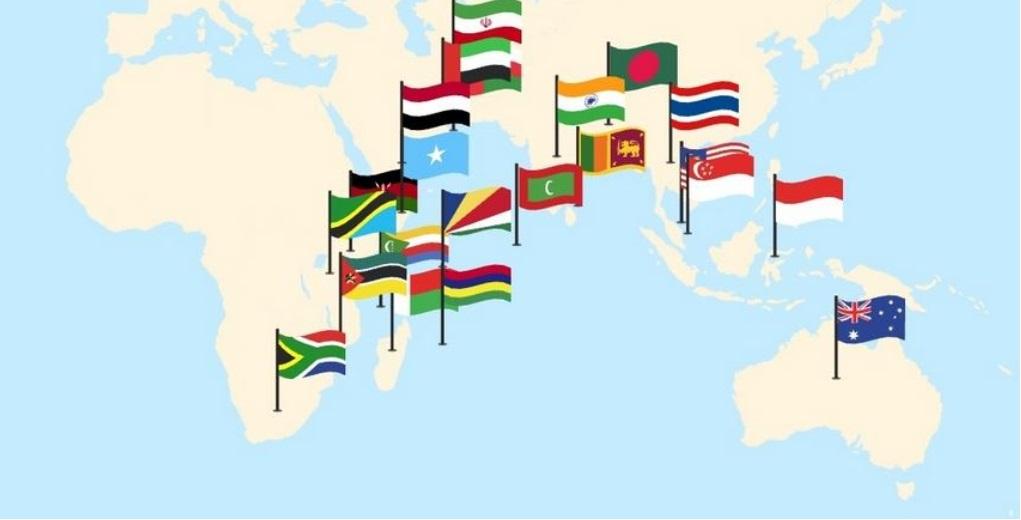 IORA comprises 23 countries from diverse regions bordering the Indian Ocean.
These countries include African, West Asian, South Asian, South East Asian, Australian, and Indian Ocean littoral states.
The organization's apex body, the Council of Foreign Ministers, convenes annually, with the chairmanship rotating every two years.
In 1997, the organization, initially called the Indian Ocean Region-Association for Regional Cooperation, was formed in Mauritius.
Its genesis can be traced back to a speech by former South African President Nelson Mandela during a visit to India in 1995.
In his speech, Mandela proposed the idea of an Indian Ocean Rim for socioeconomic cooperation, aiming to support developing nations within multilateral institutions like the United Nations, the Commonwealth, and the Non-Aligned Movement.
Significance of the Indian Ocean Region
The Indian Ocean Region holds immense importance due to its geographical, economic, and strategic relevance.
Approximately one-third of the world's population, totaling 2.6 billion people, resides in this region.
Furthermore, a substantial portion of global trade passes through it, including 80% of global oil trade, 50% of containerized cargo, and 33% of bulk cargo.
The region collectively produces goods and services worth $1 trillion, with intra-IORA trade amounting to around $800 billion.
This makes the Indian Ocean Region a crucial hub for global commerce and cooperation.
IORA: A Safe Space in a Changing Geostrategic Landscape
In an evolving geostrategic landscape, where countries are engaging in various regional groupings and initiatives, IORA serves as a "safe space" for India and other nations in the region.
It offers a platform to avoid the constant challenges posed by big-power rivalries.
Membership in IORA is based on consensus, and it maintains a less contentious atmosphere compared to other groupings.
For instance, Pakistan's application for IORA membership has been pending since 2001 due to its failure to extend the Most Favored Nation (MFN) status to India.
This makes IORA a preferred platform for India and its neighbors.
Focus Areas of IORA
IORA has outlined seven priority areas in its charter:
Maritime Safety and Security: Ensuring the safety of maritime activities within the region.
Trade and Investment Facilitation: Promoting trade and investment to foster economic growth.
Fisheries Management: Managing the region's fisheries for sustainability.
Disaster Risk Management: Preparing for and mitigating the impact of natural disasters.
Academic, Science, and Technology: Encouraging collaboration in academic and technological fields.
Tourism and Cultural Exchanges: Promoting cultural understanding and tourism within the member countries.
Gender Empowerment: Focusing on initiatives that empower women in the region.
IORA also operates a special fund that disburses project grants to its members, ranging from $80,000 to $150,000. Notably, the organization places particular emphasis on addressing climate change and environmental concerns.
Safeguarding the Indian Ocean Region
In the most recent Council of Ministers meeting, India's External Affairs Minister, S. Jaishankar, emphasized the importance of maintaining the Indian Ocean as a "free, open, and inclusive space."
He stressed the need for respecting sovereignty and territorial integrity based on the UN Convention on the Law of the Seas.
These remarks, interpreted as a message to China, underscored the importance of safeguarding the region against hidden agendas, unviable projects, and unsustainable debt that could jeopardize the countries in the Indian Ocean Region.