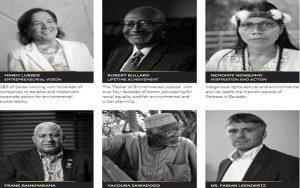 The UN Environment Programme (UNEP) has announced six laureates of the 2020 Champions of the Earth award, the UN's highest environmental honour. The Champions were chosen for their transformative impact on the environment and their leadership in urging bold and decisive action on behalf of the planet and its inhabitants.
WARRIOR 4.0 | Banking Awareness Batch for SBI, RRB, RBI and IBPS Exams | Bilingual | Live Class
The Champions of the Earth Award is presented in 5 categories:
Lifetime Achievement,
Inspiration and Action,
Policy Leadership,
Entrepreneur Vision,
Science and Innovation.
The 2020 Champions of the Earth Award has been bestowed upon 6 individuals. The list of winners is given below.
Prime Minister Frank Bainimarama of Fiji, honoured in the Policy Leadership category for his global climate action work and his commitment to climate-responsive national development
Yacouba Sawadogo (Burkina Faso), also honoured in the Inspiration and Action category for teaching farmers his traditional nature-based solution to regenerate their soil and turn barren land into arable land and forest across Africa
Nemonte Nenquimo (Ecuador), awarded in the Inspiration and Action category for her leadership and unifying work with indigenous communities that halted drilling in Ecuador's Amazon rainforest
Dr Fabian Leendertz (Germany), honoured in the Science and Innovation category for his discoveries in zoonotic and his work in One Health
Mindy Lubber (USA), recognized in the Entrepreneurial Vision category for her commitment to turning capital markets green by mobilizing top investors and companies and making the business case for climate action and sustainability
Lifetime Achievement Award:
Professor Robert D. Bullard (USA) who was awarded the Champion of the Earth Lifetime Achievement award for his commitment and service to environmental justice.
About Champions of the Earth award:
The UN Environment Program (UNEP) is presenting the Champions of the Earth Award since 2005, to inspire and motivate more people to act for nature. The award recognizes outstanding environmental leaders from the public and private sectors, and from civil society for their pioneering initiatives aimed at healing the planet amid natural and man-made threats and whose activities have had a positive impact on the environment.