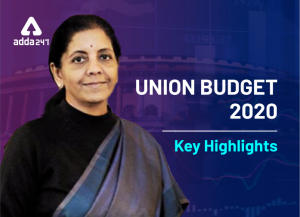 Union Finance Minister Nirmala Sitharaman is presenting the Union Budget 2020 for the 2nd time in a row. The Union Budget is the yearly financial report estimating the income and expenditure presented to outline future policies to be adopted by the government for sustainable growth and development. The Economic Survey 2019-20 was released on 31st January 2020 by the Chief Economic Advisor of India, Krishnamurthy Subramanian. The GDP growth of India's forecasts at between 6 to 6.5% for the fiscal year starting April. Sabka Sath, Sabka Vikas, Sabka Vishwas was the tagline of government mentioned by Finance Minister Nirmala Sithraman in her speech.
This time 3 themes of Union Budget 2020-21:
aspirational India,
economic development for all, and
develop a caring society
Union Budget 2020-21 takeaways:
The tax of only 10% will be charged to Rs 5 lakh-7.5 lakh income as against prevailing 20% rate. 
From Rs 7.5 lakh-10 lakh income, a tax rate of 15% against 20% prevailing rate.
For income Rs, 10-12.5 lakh, a rate of 20% will be charged as against 30% earlier.
For income between Rs 12.5 lakh-15 lakh will be taxed at 25 per cent as against 30%.
For those at Rs 15 lakh plus income, the tax will be 30%.
Reducing the corporate tax rates for new companies in the manufacturing sector to 15%. Similarly, for existing companies, rates lowered at 22%
FY-21 fiscal deficit target pegged at 3.5% of GDP – FY20 fiscal deficit at 3.8% of GDP vs earlier target of 3.3%.
Tax on Co-op societies to be reduced to 22% plus surcharge, as against current 30%.
The government has proposed a 100% tax concession to sovereign wealth funds on investment in infrastructure projects.
Concessional tax rate of 15% extended to power generation companies.
Dividend Distribution Tax (DDT) shifted to individuals instead of companies.
Housing made more affordable, tax holiday to affordable housing developers.
Additional Rs 1.5 lakh tax benefit on affordable housing loans.
Govt to launch system for instant allotment of PAN on the basis of Aadhaar.
Customs duty raised on footwear and furniture.
Nominal health cess on import of medical equipment to be introduced.
Aadhaar-based verification of taxpayers is being introduced.
Zero-budget farming may not be a good move for fertiliser companies.
Health cess on import of medical equipment imposed in Budget.
The government has removed 70 exemptions, deductions with a view to further simplify the tax regime.
The budget has provided an outlay of

₹

8,000 crores for quantum computing over five years to break into this technology.
FM Sitharaman halves customs duty on import of newsprint, lightweight coated paper to 5%.
The government has extended concessional withholding rate of 5% on interest payment to non-residents up to June 30, 2022.
The government will launch 'Vivaad Se Vishwas' Scheme to reduce tax litigation.
GST as "the most historic reform". GST has integrated the country economically, a 10% reduction in overall taxes.
India FDI elevated to 284 Billion USD from 190 Billion USD.
The central Govt Debt got reduced in March 2019 to 48.7% of GDP from 52.2% in March 2014.
Propose to undertake 16 Action Points including agricultural-related points, water stress-related points.
First Action Point includes 3 Model Agricultural-related Laws and water stress-related issue.
Comprehensive measures for 100 water-stressed districts, PM Kusum schemes removed farmers dependence, Solar Power generation units will be set up for farmers to make a living out of the barren land.
Kisan Rail through PPP model so that perishable goods can be transported quickly. Krishi Udaan will be launched by MoCA on international and national routes.
16th Action Point Under Deen Dayal Antodaya Yojana 58 Lakh SHGs has been mobilised, Further expanding.
2 broad categories: For sector comprising of agriculture, allied sector, 2.83 lakh crores have been made for 2020-21, 1.6 lakh crores for agriculture For rural and Panchayati Raj- 1.23 lakh crores.
112 Aspirational Districts to be covered for AYUSHMAN Treatment.
Wellness water and sanitation & Healthcare Mission Indradhanush expanded to cover.
12 diseases, Fit India Movement, Jal Jeevan Mission, Swachh Bharat Mission.
69,000 crores to the health sector.
TB haarega, Desh Jeetega" Campaign, Strengthen the campaign to end Tuberculosis by 2025. Jan Aushadi Kendra Scheme offering 2000 medicines, 300 surgical by 2024.
The new education policy will be announced soon, IND-SAT exam proposed in Asian and African country for foreign university 3.60 lakh crores for Jal Jeevan mission. New Edu policy soon. Swachh Bharat Mission allocation Rs 12,300 crore.
Augmenting local water resources, promote water harvesting in 2020-21, 11,500 crores will be provided.
By 2030, India will have the largest working-age population in the world.
The new education policy will be announced soon, IND-SAT exam proposed in Asian and African country for foreign university New Edu policy soon.
About 150 higher education institutes will start Apprenticeship embedded degree diploma courses by March 2021. Steps would be taken to enable sourcing to provide higher quality education. Urban Local Bodies to provide internship opportunities for young engineers. For deprived students, degree level full-fledged online education programme to be started.
National Police University and National Foreign University will be set up. Medical colleges to be set up at district level to produce more doctors.
High-Speed Train Mumbai-Ahemadabad would be actively pursued.
27000 Km Train Track Electrification.
Solar-powered capacity to be set up alongside rail tracks.
To build a seamless national cold supply chain for perishables, Indian Railways will set up Kisan Rail through PPP model so that perishable goods can be transported quickly. Krishi Udaan will be launched by MoCA on international and national routes.
Rs 27,300 crore for the development and promotion of industry and commerce.
PM Govt allows tech companies to set up Data Centre parks to provide internet to citizens. It allocates Rs 6,000 crore for BhartatNet.
5600 crores Allocated to nutrition-related programmes for FY 2020-21. Nutrition of Children, pregnant women, Poshan Abhiyan was launched.
More than 6 lakh Anganwadi workers equipped with smartphones to update the nutritional status of 10 crore households Task Force appointed to mothers.
For SC and OBC Classes, 85,000 crores allocated for FY 2020-21 For ST Classes, 53,700 crores allocated for FY 2020-21 For Senior Citizens & Divyangs, 9,500 crores for 2020-21.
Indian Institute of Heritage and Culture to be set up. 5 archaeological sites would be developed as iconic sites with the onsite museum: Rakhi Garhi Haryana, Hastinapur UP, Shivsagar Assam, Dolavira Assam, Adichalanur in TN.
3150 crores allocated to the Ministry of Culture. Tribal Museum to be set up in Ranchi Jharkhand. The maritime museum would be set up.
Institute to have a deemed University Status.
Establish Indian Institute of Heritage & Conservation under Culture Ministry.
Prepaid Smart Meters by 2023.
16200 Km Gas Grid expanded.
Fibre net to link Villages.
Data Centre Park across India.
FibreLink gram Panchayats.
1 lakh gram panchayats to be connected with optical fibre technology.
Our commitments for Paris agreements will start from 1st Jan 2021 Encourage states to ensure cleaner air- 4,400 Crores allocation for the ministry of environment.
1 Port to be on Stock Exchange.
Delhi-Mumbai Express-Way.
Self Help Groups will be allowed to set up village agriculture storage facilities. Govt will involve rural youth in coastal areas to boost fish production.
National Recruitment Agency has to be set up.
Common eligibility test to be set up for non-gazetted posts. A centre will be put up in each district, especially aspirational districts.
FM announces 2 National Science Schemes Genetic Database for drug innovation & Quantum Computing for advancing our computational n analytical capabilities to join an exclusive global league – Rs 8000 Cr over 5 years.
Proposed to sell the balance holding of the government of India's IDBI  to private retail and institutional investors through the stock exchange.
The government raised the insurance cover to Rs 5 lakh per depositor, which is currently Rs 1 lakh. This comes after the PMC bank crisis.
Krishi UDAAN scheme will be launched by the Aviation Ministry.
NBFCS and cooperatives are active in agriculture. NABARD refinance scheme will be expanded. There will be Rs 15 lakh crore agriculture credit availability.
New Education policy will be announced soon.
Urban local bodies to provide internship to young engineers for a year so that they come to know how the government functions.
Degree level online education courses will be introduced which can be provided by colleges in the top 100 list by National Educational Institute List. 
Indian Gold February futures reclaimed the Rs 41,000-mark and could even retest the previous record high of 41,293 per 10 gram.
A new scheme NIRVIC will be launched with the aim of increasing India's export credit. It will look into setting up hubs in smaller rural areas and districts. The scheme will be launched this year itself.
India will host G20 Presidency in the year 2022 and the Finance Ministry is set to allocate Rs 100 crore for the preparations.
The Ministry of Finance is set to allocate Rs 28,600 crore for programs meant especially for women. "Beti Bachao Beti padhao" is a highly successful scheme, girls registration in school has surpassed that of boys.
Taskforce to be set up to recommend marriageable age for women
The government has plans to raise money through LIC IPO. The government will thus sell part of its holding in the LIC.
The government wishes to institute a charter for the taxpayers charter in the statute and ensure taxpayers are free against tax harassment.
100 more airports will be developed to provide support to the PM Udaan scheme BY 2024.
The Finance Ministry will allocate Rs 22,000 crore to power renewable energy sector in this financial year. The govt proposes to expand the national gas grid to reach 27,000 km from the current reach of 6,000 km.
Nominal growth of GDP estimated for 2020-21 on the basis of trends at 10%. Revised estimates of the expenditure for FY 2020-21, 26.99 lakh crores. Receipts estimated at 19.32 lakh crores.
Delhi-Mumbai Expressway will be completed by 2023.
Chennai-Bengaluru Expressway to be launched soon.
Government to set up project preparation facilities for the infrastructure sector, national logistic policy soon.
Rs 40,000 cr per annum will be revenue foregone from new income tax rates for individuals.
The net market borrowings would be Rs 4.99 lakh cr in fiscal 20 and Rs 5.36 lakh cr in next fiscal. 
Rs 3.50 lakh crore infused as capital in public sector banks in past years.
The government has proposed Rs 30,757 crore for Jammu and Kashmir, and Rs 5,958 crore for Ladakh for fiscal 2020-21.
Find More News on Economy Here