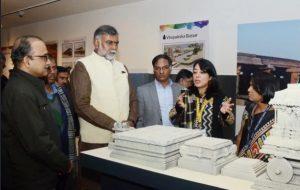 Union Culture and Tourism Minister Prahlad Singh Patel launched an exhibition titled "Indian Heritage in Digital Space" at National Museum, New Delhi. This exhibition is first of its kind in the country. The exhibition will stay online until February 15, 2020.
What technologies used in this exhibition?
The technologies are used to create the models of Heritages were developed by the IHDS programme. IHDS is an initiative of Department of Science and Technology. Its aims to create 3D LASER scan data, holographic projections, AR and 3D fabrication to showcase the glory of heritages. It has so far created a reconstruction of Hampi and other five Indian monuments namely Taj Mahal, Sun Temple, Kashi Vishwanath Temple, Ramachandra Temple and RaniKiVav Patan. The exhibition also consists of a special installation called "VIRAASAT". Viraasat in Hindi means heritage. It provides mixed reality experience to visitors through 3D printing.
History of National Museum, New Delhi
The National Museum blueprint for establishing was prepared by the Maurice Gwyer Committee in May 1946. The Exhibition of Indian Art consisting of selected artefacts from various museums of India was organized by the Royal Academy, London with the cooperation of Government of India and Britain.
On August 15, 1949, National Museum, New Delhi was inaugurated in the Rashtrapati Bhawan by Shri C. Rajagopalachari, the Governor-General of India. The foundation of the present building was laid by Pandit Jawaharlal Nehru, the Prime Minister of India, on May 12, 1955. The 1st phase of the National Museum building was formally inaugurated by Dr Sarvepalli Radhakrishnan, the Vice President of India, on December 18, 1960. The second phase of the building was completed in 1989.