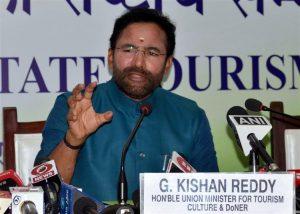 Union Minister for DoNER, Tourism & Culture, G. Kishan Reddy has launched the two-day virtual conference 'SymphoNE'. The Virtual Conference 'SymphoNE' is being organized on 24th & 27th of September 2022 by the Ministry of Development of the North Eastern Region on the occasion of World Tourism Day. North East India is blessed with amazing food, culture, stunning landscapes, heritage and architecture and ranks among the most beautiful places on the earth. But, there are grand opportunities that can be filled to boost Tourism Sector in the Region.
Bank Maha Pack includes Live Batches, Test Series, Video Lectures & eBooks
This two-day conference will aim to create a roadmap to showcase the unexplored beauty of North East India & boost the tourism Sector in the North Eastern Region. It would ideate, discuss & formulate ideas & suggestions by Thought Leaders, Policy Thinkers, Social Media Influencers, Travel & Tour Operators And The Senior Officials of the Ministry of DoNER and State Departments.
About the SymphoNE:
SymphoNE aims to develop a one-stop solution to eliminate all obstacles that are being faced by the tourists, and the tour operators while carrying out the operations for the visitors while solving logistics & infrastructural facilities, lack of awareness about the locations among the tourist and spreading necessary information among the people, and marketing/promotional activities.
SymphoNE is the start of a series of dialogues on the North Eastern Region's Development Conference comprised of a broad range of Policy Thinkers, Stakeholders & Influencers with the aim to boost the Tourism Sector in the North Eastern Region.
Find More News related to Summits and Conferences