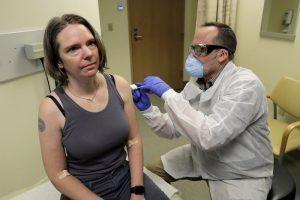 The United State has begun phase one of the clinical Human trial of an investigational vaccine designed to protect against the coronavirus disease which has claimed the lives of over 7,000 people globally.
Important Facts of Covid-19 vaccine trial:
The trial began at the Kaiser Permanente Washington Health Research Institute (KPWHRI) in Seattle as the first participant received the investigational vaccine.
The National Institute of Allergy and Infectious Diseases (NIAID), part of the National Institutes of Health (NIH), is funding the trial.
The open-label trial will enrol 45 healthy adult volunteers aged 18 to 55 years over approximately six weeks.
The study participants will receive two doses of the vaccine via intramuscular injection in the upper arm approximately 28 days apart.
The vaccine is called mRNA-1273 and was developed by the NIAID scientists and their collaborators at the biotechnology company Moderna, Inc., based in Cambridge, Massachusetts.
The Coalition for Epidemic Preparedness Innovations (CEPI) supported the manufacturing of the vaccine candidate for the Phase 1 clinical trial. CEPI so far has secured USD 760 million toward its USD 1 billion funding target, with multi-year funding from Norway, the UK, Germany, Japan, Canada, Ethiopia, Australia, the Bill & Melinda Gates Foundation, and Wellcome.
The CEPI set up to accelerate the development of vaccines against emerging infectious diseases, made an urgent call for USD 2 billion to support the development of a vaccine against the virus responsible for COVID-19.
Important takeaways for all competitive exams:
COVID-19 cases were first identified in December 2019 in China's Wuhan in Hubei province. As of March 15, the WHO has reported 153,517 cases of COVID-19 and 5,735 deaths worldwide.