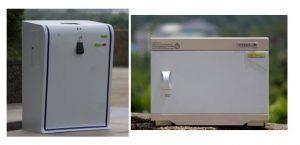 Used mask disposal device "BIN-19" and "UV SPOT" has been launched in Kerala by VST Mobility Solutions, a Startup headquartered at Cochin. These automated mask disposal machine has been launched as part of efforts to combat the COVID-19. These automated products would also help in preventing the environmental damages and will also solve the problem of disposal of used masks.
About smartbin "BIN-19":
"BIN-19" is a smart bin developed for the collection and disinfection of Used Face-Mask and is based on Internet of Things (IoT). The disinfecting device will be very handy in offices, homes, and other public places. The used masks will be dropped inside a container of the bin and will be first disinfected by a process. The person operating the smart bin can sanitize his/her hands with the help of the automatic sanitizer dispenser attached to the Bin-19. The IoT Features of BIN-19 includes Auto Sanitizer Dispenser, Power ON/OFF alerts, Box open alerts, Mobile Application to navigate/find Bin-19, Web Portal for Status Alerts.
About multipurpose disinfector "UV SPOT":
UV SPOT is a UV light-based multipurpose disinfector having ultraviolet disinfection lamps and is capable of disinfecting a broad range of microorganisms. The UV-based device is mainly used for disposing of the contaminated or used face-mask and for reusing the UVC stable metallic products.
Important takeaways for all competitive exams:
CEO of VST Mobility Solutions: Alvin George.