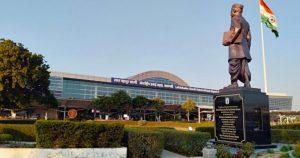 The Lal Bahadur Shastri International (LBSI) Airport here has become the first in India to have a reading lounge. Apart from books on Kashi, the lounge`s library has a collection of literature and books in many international languages besides books of youth authors published under Prime Minister Yuva Yojana. The Varanasi airport has become the first airport in the country to have a free reading lounge. The lounge has been established with the assistance of National Book Trust (NBT), an Indian publishing house and autonomous body under the ministry of education of the Union government.
Buy Prime Test Series for all Banking, SSC, Insurance & other exams
The Airport Reading Lounge is a reflection of Kashi, for both traditionalists as well as the contemporary visitors and passengers, and for those who wish to seek further knowledge on the mystical heritage of this ancient city. Apart from India`s culture, history, traditional knowledge systems, health and wellness, literature in Hindi, French, Spanish, English and many other Indian languages, the reading lounge also celebrates literary icons of Varanasi through their works, iconic places and unknown facts and connections with the city.
About the Lal Bahadur Shastri International (LBSI) Airport
Lal Bahadur Shastri International Airport (LBSI Airport) has a history that dates back to the early 1950s. The airport was initially known as Varanasi Airport and served as a domestic airport connecting Varanasi with major Indian cities.
In 2005, the airport underwent a significant transformation and expansion project. The terminal building was modernized and expanded to handle increased passenger traffic. The airport was also equipped with state-of-the-art facilities and amenities to enhance the overall travel experience.
In 2006, the airport was renamed Lal Bahadur Shastri International Airport in honor of Lal Bahadur Shastri, the former Prime Minister of India. Shastri, who hailed from Varanasi, played a pivotal role in India's freedom struggle and served as Prime Minister from 1964 to 1966.
Since the airport's expansion, there has been a steady growth in passenger traffic, both domestic and international. Airlines operating from Lal Bahadur Shastri International Airport connect Varanasi to several domestic destinations such as Delhi, Mumbai, Kolkata, and Bengaluru, as well as international destinations like Bangkok, Kathmandu, and Dubai.
The airport continues to undergo further development and upgrades to cater to the increasing number of passengers and meet international standards. It serves as a vital transportation hub for the region, contributing to the economic growth and tourism of Varanasi and its surrounding areas.
Find More Miscellaneous News Here