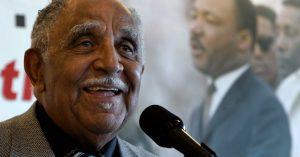 Veteran US civil rights leader Joseph Lowery passed away. Joseph Lowery helped establish the Atlanta-based Southern Christian Leadership Conference, an African-American civil rights organisation set up to promote racial equality. He also served as an American minister in the United Methodist Church. He was born on October 6, 1921, in Huntsville, Alabama, US.
Click Here To Get Test Series For SBI PO 2020
Joseph Lowery was the key ally of Martin Luther King in the US civil rights movement of the 1960s. Joseph Lowery was awarded the "Presidential Medal of Freedom", the nation's highest civilian honour, by former President Barack Obama in 2009.