Full Form of Hamas
Hamas, full form is Harakat al-Muqawama al-Islamiya (Islamic Resistance Movement). In October 2023, Hamas, an Islamist militant group governing the Gaza Strip, launched a massive surprise attack on southern Israel, killing hundreds of civilians and soldiers and taking dozens as hostages. This unprecedented assault has led to a significant escalation in the conflict between Israel and Hamas.
Origins of Hamas
Hamas, short for Harakat al-Muqawama al-Islamiya (Islamic Resistance Movement), was founded in 1987 by Sheikh Ahmed Yassin, a Palestinian cleric with ties to the Muslim Brotherhood.
It emerged during the first intifada as the political arm of the Brotherhood in Gaza.
Leadership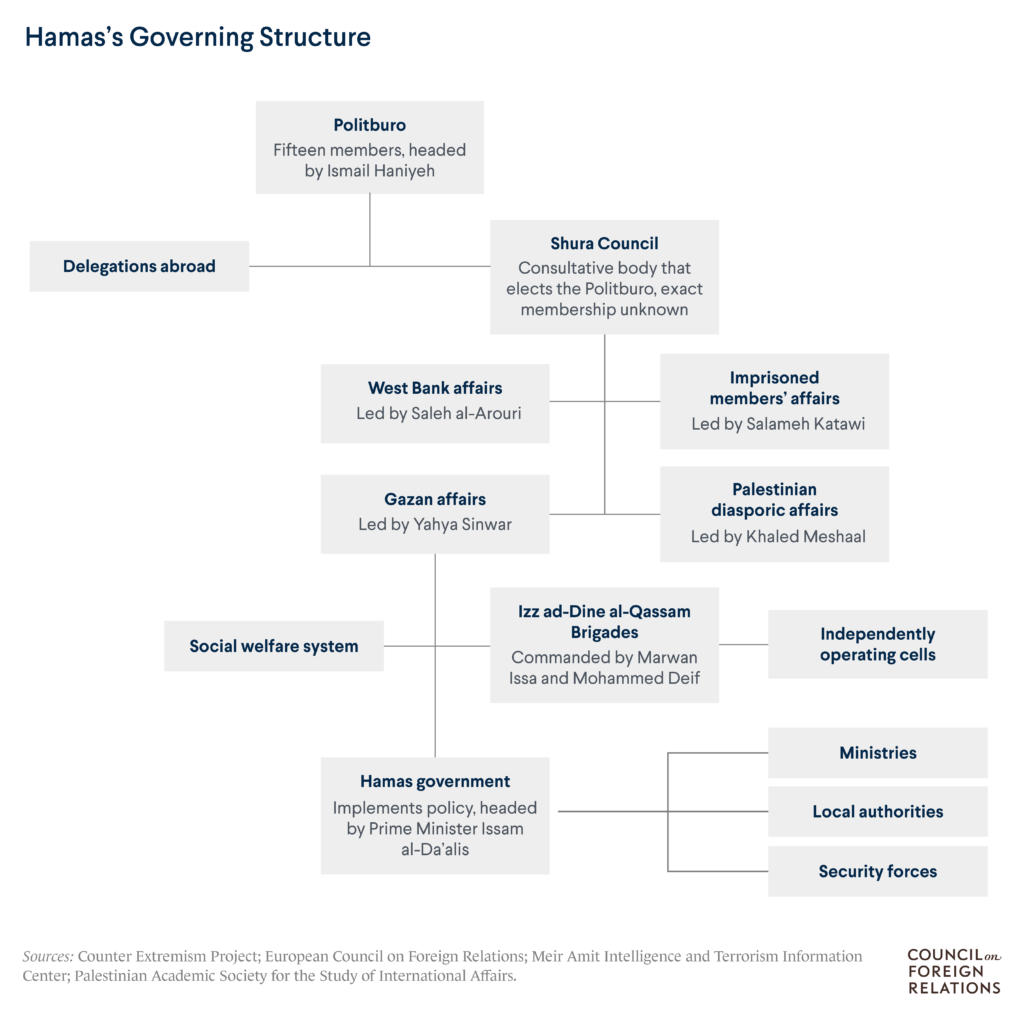 Hamas has a complex leadership structure, including an exiled politburo responsible for setting overall policy, with Ismail Haniyeh as its current political chief.
Yahya Sinwar oversees day-to-day affairs in Gaza, and Marwan Issa and Mohammed Deif lead the military wing, the Izz ad-Din al-Qassam Brigades.
Funding
Hamas faces financial challenges due to its designation as a terrorist organization by several countries.
Historically, it received funding from Palestinian expatriates and private donors, as well as some Islamic charities.
Qatar has provided financial assistance, while Iran is a significant benefactor, contributing funds, weapons, and training.
Turkey has been accused of funding Hamas, and it has also received foreign aid via the Palestinian Authority and UN agencies.
Hamas Governance in Gaza
Governing Gaza:
Since Israel's withdrawal from Gaza in 2005, Hamas has been the de facto authority in the territory.
It won a majority in the PA's legislature in 2006 and established its government.
It gained popularity for the social services it provided and as a rejection of Fatah's perceived corruption.
Authoritarian Rule:
Hamas established a judiciary and put in place authoritarian institutions in Gaza.
It governs in accordance with sharia-based Palestinian Basic Law but has been more restrictive in some areas, such as dress codes and gender segregation.
Lack of Accountability:
Watchdog groups have noted the lack of transparency in Hamas's operations, including funding and procurement.
The group also represses media, political opposition, and NGOs, limiting accountability.
Palestinian Perspective on Hamas
Divided Palestinian Territories:
The division between the West Bank and Gaza is widely unpopular among Palestinians. Many view it as a detrimental development for their people.
A significant number of Palestinians in both territories would vote for Hamas's Ismail Haniyeh over PA President Mahmoud Abbas, but Abbas has postponed national elections, potentially to prevent a Hamas victory.
Hamas's Challenges to Israel
Previous Attacks:
Hamas has historically fired rockets and mortars into Israel, and it gained the ability to build its own missiles after training with Iran's IRGC.
The group also launched incendiary balloons and carried out incursions into Israeli territory, resulting in conflicts with Israel.
2023 Attack:
Hamas's 2023 assault on Israel, "Operation Al-Aqsa Storm," was unprecedented in its strategy, scale, and secrecy.
It involved launching thousands of rockets into Israel, breaching the Gaza border, and infiltrating Israeli towns.
This attack was a response to Israel's blockade of Gaza, its occupation of Palestinian lands, and alleged crimes against Muslims, including the desecration of Al-Aqsa Mosque in Jerusalem.
Israeli Response:
Israel declared war on Hamas in response to the 2023 attack, launching air strikes and ground operations.
Prime Minister Benjamin Netanyahu warned of a "long and difficult war," and the situation is expected to be extraordinary.
Potential Escalation:
An Israeli invasion of Gaza could lead to wider regional conflicts, potentially involving Hezbollah in Lebanon, which is backed by Iran.

This situation carries the risk of further escalation and instability in the region.
Find More International News Here