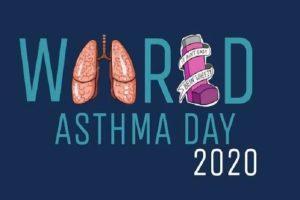 World Asthma Day is observed every year on the 1st Tuesday of May. This year, World Asthma Day is observed on May 5, 2020. The day spread awareness about asthma disease and care around the world.  Whilst the primary focus is supporting the person with asthma, support may also extend to family, friends and caregivers. The theme for 2020 is 'Enough Asthma Deaths'.
History of World Asthma Day:
World Asthma Day is annually organized by the Global Initiative for Asthma (GINA). In 1998, first World Asthma Day was celebrated in more than 35 countries in conjunction with the first World Asthma Meeting in Barcelona, Spain.
What is Asthma?
Asthma is a chronic disease of the lungs which causes breathing problems. Symptoms of asthma include breathlessness, coughing, wheezing and a feeling of tightness in the chest. These symptoms vary in frequency and severity. When the symptoms are not under control, the airways can become inflamed making breathing difficult. Whilst asthma can not be cured, the symptoms can be controlled enabling people with asthma to live full lives