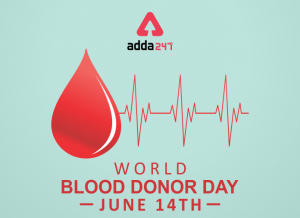 World blood donor day is observed globally on June 14th every year. This day is celebrated to create that awareness and make people understand how crucial it is to donate blood. As well as thanking blood donors, it's each day to boost awareness about the worldwide need for safe blood and the way everyone can contribute. To promote and support effective national donor programmes and therefore the elimination of dependency on family/replacement and paid blood donation. To encourage people to donate blood regularly on an unpaid basis.
The campaign theme for this year's World donor Day is "Safe blood saves lives" with the slogan "Give blood and make the world a healthier place".
Click Here To Get Test Series For SBI PO 2020
The objectives of this year's campaign are:
To celebrate and thank individuals who donate blood and to encourage those that haven't yet donated blood to start out donating.
To highlight the necessity for committed, year-round blood donation, to take care of adequate supplies and achieve universal and timely access to safe blood transfusion.
To focus attention on the contribution donors make to the entire community as a critical factor in improving health.
To demonstrate the necessity for universal access to safe transfusion and supply advocacy on its role within the provision of effective health care and in achieving the goal of universal health coverage.
To mobilize support at national, regional and global levels among governments and development partners to take a position in, strengthen and sustain national blood programmes.
World Blood Donor Day 2020: History
Every year on the birth anniversary of Landsteiner on 14 June 1868, World donor Day is widely known. This event was first initiated and established to be celebrated on 14 June 2004 by the "World Health Organisation, the International Federation of Red Cross and Red Crescent Societies" with an aim to boost public awareness about the necessity for safe blood donation voluntarily and unpaid by the healthy person. In May 2005, WHO officially established with its 192 Member States, World donor Day at the 58th World Health Assembly so as to motivate all the countries worldwide to thank the blood donors for his or her precious step and saving lives of the people.
Important Static for all competitive examination:
Headquarters of WHO: Geneva, Switzerland.
Director-general of WHO: Tedros Adhanom.