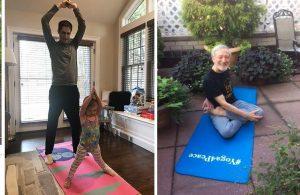 United Nations celebrates International Day of Yoga globally on 21 June every year to raise awareness worldwide of the many benefits of practicing yoga. Yoga is an ancient physical, mental and spiritual practice that originated in India. The word 'yoga' derives from Sanskrit and means to join or to unite, symbolizing the union of body and consciousness.
The theme of International Day of Yoga 2020 is "Yoga for Health – Yoga at Home".
About International Day of Yoga:
India proposed the draft resolution to establish the International Day of Yoga and the proposal was endorsed by a record 175 member states. Recognizing its universal appeal, on 11 December 2014, the United Nations proclaimed 21 June as the International Day of Yoga by resolution 69/131.
Important takeaways for all competitive exams:
Secretary-General of United Nations: António Guterres.