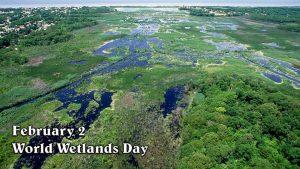 World Wetlands Day is annually celebrated globally on 2nd of February. The day aims to raise the awareness about the crucial role played by wetlands for people and our planet. The theme of World Wetlands Day 2020 is "Wetlands and Biodiversity".
Defining Wetlands:
Wetlands are a habitat for a dense variety of plant and animal species and also rich with the biodiversity which is declining according to the researchers estimates. These are the land areas that are saturated or flooded with water either perennially or seasonally.
Types of wetlands:
Coastal wetlands: mangroves, estuaries, saltwater marshes, lagoons etc.
Inland wetlands: marshes, fens, lakes, swamps, rivers, floodplains and ponds.
Human-made wetlands: Fish ponds, saltpans, and rice paddies.
Importance of the theme for World Wetlands Day 2020:
Wetlands and Biodiversity, the theme for year 2020 indicates an unique opportunity to highlight the declining status of the wetland biodiversity and directs to take actions for conservation of wetlands to reverse its losses. The wetlands are estimated to be disappearing with the declining rate of three times faster than forests.
Why it is celebrated annually on 2nd of February?
World Wetlands Day is celebrated annually on 2nd of February to mark the adoption of the Convention on Wetlands on 2 February 1971, in the Iranian city of Ramsar on the shores of the Caspian Sea.
Ramsar Sites in India:
Asthamudi Wetland in Kerala.
Bhitarkanika Mangroves in Orissa.
Bhoj Wetlands in Madhya Pradesh.
Chandertal Wetland in Himachal Pradesh.
Chilka Lake in Orissa.
Deepor Beel in Assam.
East Calcutta Wetlands in West Bengal.