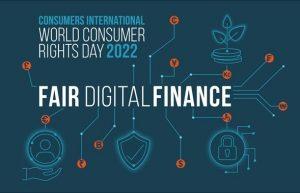 World Consumer Rights Day is celebrated on March 15 every year. The day marks an opportunity to urge that all consumers' rights be recognised and safeguarded, as well as to protest market abuses and social injustices that jeopardise those rights. The day highlights the power of consumers and their rights for a fair, safe and sustainable marketplace for everyone.
Buy Prime Test Series for all Banking, SSC, Insurance & other exams
This year the International Consumer Rights Day will be celebrated on the theme of "Fair Digital Finance." The Department of Consumer Affairs will commemorate this day with multiple events being held in New Delhi.
History of the day:
World Consumer Rights Day is inspired by President John F Kennedy's special message to the US Congress that was delivered on 15th March 1962. In this message he formally addressed the issue of consumer rights becoming the first world leader to do so. The consumer movement first marked that date in 1983 and now uses the day every year to mobilise action on important issues and campaigns.
There are some rights of consumers:
Right to Safety; To be protected against the marketing of goods and services, which are hazardous to life and property. The purchased goods and services availed of should not only meet their immediate needs but also fulfil long term interests.
Right to be Informed; Right to be informed about the quality, quantity, potency, purity, standard and price of goods so as to protect the consumer against unfair trade practices.
Right to Choose: To be assured, wherever possible of access to a variety of goods and services at a competitive price. In the case of monopolies, it means the right to be assured of satisfactory quality and service at a fair price.
Right to be Heard: Meaning that consumers' interests will receive due consideration at appropriate forums. It also includes the right to be represented in various forums formed to consider the consumer's welfare.
Right to Seek redressal: To seek redressal against unfair trade practices or unscrupulous exploitation of consumers. It also includes the right to fair settlement of the genuine grievances of the consumer.
Right to Consumer Education: To acquire the knowledge and skill to be an informed consumer throughout life. Ignorance of consumers, particularly of rural consumers, is the main cause behind their exploitation.
The Right to satisfaction of basic needs; To have access to basic, essential goods and services: adequate food, clothing, shelter, health care, education, public utilities, water and sanitation.
The right to a healthy environment; To live and work in an environment that is non-threatening to the well-being of present and future generations.
Various Consumer Organisations (mentioned below) are functional in India that provide help against violation of Consumer Rights:
Akhil Bhartiya Grahak Panchayat
Consumer Guidance Society of India
All India Consumer Protection Organization
The Consumers Eye India
United India Consumer's Association
Grahak Shakti Bengaluru – Karnataka
Consumer Awareness, Protection, and Education Council
The Consortium of South India Consumer Organisations