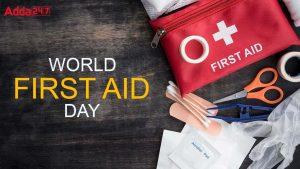 World First Aid Day is celebrated every year on the second Saturday of September. This year, World First Aid Day 2022 falls on 10 September 2022. The day is recognized worldwide to promote the significance of first aid, which is an important fundamental skill, and to create awareness on a global level about how it can save precious lives. The day was introduced first by the International Federation of Red Cross and Red Crescent Societies (IFRC).
Bank Maha Pack includes Live Batches, Test Series, Video Lectures & eBooks
World First Aid Day 2022: Theme
According to the IFRC, with this year's theme, 'Lifelong First Aid', we are putting forward the importance of having lifelong first aid learning. No matter the age, having first aid skills and knowledge helps create safer and healthier communities. Children, adults, or older adults should also be able to have a quality first aid education. A lifelong commitment to learning and providing first aid is what makes us more resilient.
World First Aid Day 2022: Significance 
Every year, World First Aid Day is recognized to create awareness and emphasize the value of first aid as an act of humanitarian empowerment and as a fundamental part of a broader resilience approach. It is an opportunity to improve people's perceptions of first aid and make first-aid education accessible to the public. This year, the World First Aid Day event will be coordinated by the Global First Aid Reference Centre, which will also provide necessary resources to the National Societies.
History of World First Aid Day:
World First Aid Day's history dates back to the battle of Solferino in 1859 in which a young businessman, Henry Dunant, from Geneva was horrified and shocked by the mass massacre of people. He helped many severely injured people. This incident inspired him so much that he wrote a book titled as 'A Memory of Solferino'. In the book, he mentioned his experiences and finally formed the International Committee of the Red Cross (ICRC), as a co-founder, to provide immediate first-hand care to prevent loss of lives due to lack of first-aid education. In the year 2000, IFRC officially declared the second Saturday of September as the World First Aid Day.