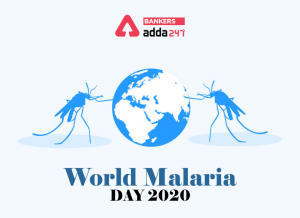 World Malaria Day is observed globally on 25 April every year. This day is observed to spread awareness among people globally to fight against malaria.
World Malaria Day 2020: Theme
The theme of World Malaria Day 2020 is "Zero malaria starts with me." To End Malaria WHO joins the RBM Partnership in promoting "Zero malaria starts with me". It is a grassroots campaign with an objective to keep malaria high on political agenda, mobilize additional resources ane empower communities to take ownership of malaria prevention and care.
Click Here To Get Test Series For SBI PO 2020
World Malaria Day: History
World Malaria Day was developed from Africa Malaria Day which was first held in 2008. It is basically an occasion that had been observed since 2001 by African governments. They worked towards the progress goal which aimed toward controlling malaria and reduces its mortality in African countries.
At the 60th session of the planet Health Assembly, a gathering sponsored by the planet Health Organisation (WHO) in 2007 proposed that Africa Malaria Day be changed to World Malaria Day to spot the existence of malaria within the countries worldwide and to bring awareness among people globally to fight against malaria disease.
Facts about Malaria
Malaria is caused by the Plasmodium parasite.
The parasite can be spread to humans through the bites of infected female Anopheles mosquitoes called 'malaria vectors'. When mosquito bites parasite is released into the bloodstream.
Malaria is an acute febrile illness. Its symptoms usually appear in 10-15 days after the bite of an infected mosquito. At the starting stage, its symptoms are fever, headache and chilling effect.
Important takeaways for all competitive exams:
Headquarters of WHO: Geneva, Switzerland; Director general of WHO: Tedros Adhanom.