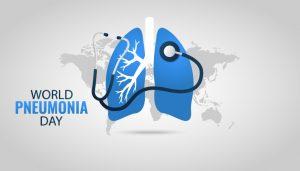 World Pneumonia Day 2022:
World Pneumonia Day is a global event observed every year on 12 November to spread awareness and educate people to combat Pneumonia disease, which is a world's biggest infectious killer of adults and children, responsible for the majority of death of children below five around the world. The day is also focused on creating ample opportunity and encourage for the global action mainly in the low and middle income countries to fight the toll due to pneumonia and other respiratory infection.
Buy Prime Test Series for all Banking, SSC, Insurance & other exams
World Pneumonia Day 2022: Theme
This year 2022, World Pneumonia Day theme is based on the Worldwide Pneumonia Awareness Campaign – "Pneumolight 2022", with a theme and slogan "Pneumonia Affects Everyone", with an aim to amplify the effect of awareness campaigns by illuminating monuments worldwide. This year 2022, with the support of 42 countries 228 monuments will be illuminated to mark the World Pneumonia Day, with an intention to raise visibility of World Pneumonia Day, 2022 globally.
Importance of World Pneumonia Day (WPD):
Pneumonia is a preventable and treatable infectious disease. Despite the availability of treatment, the death toll due to Pneumonia and other respiratory infectious disease has risen drastically in past years. In 2019, 25 lakhs people lost their lives, and around seven lakhs children below five years died due to the Pneumonia across the world.
Also, the Unprecedented COVID outbreak has added the toll to 6 lakhs death due to respiratory infectious disease in 2021, making it one of the biggest respiratory crisis putting lakhs of people at risk of infection and death.
History of World Pneumonia Day (WPD)
World Pneumonia Day was first observed on 12 November 2009, under the "Stop Pneumonia" initiatives by Global Coalition Against Child Pneumonia, a coalition of various institutions all together to fight the child mortality due to the respiratory infection. Stop Pneumonia got immense support across the globe, various Govt institutions and private organization advocated and implemented the better policies and campaigns to educate people and provide better facilities especially in the low and middle income countries where children suffers with malnutrition and air infections.
What is Pneumonia?
Pneumonia is an inflammatory respiratory disorder caused due to bacteria, viruses or fungal infections which impair the air sacs of the lungs, called "Alveoli". It results in the accumulation of fluid or pus in the air sacs, making breathing difficult. It is a contagious disease and could be fatal for the person with weaker immunity, especially in the children's and elderly people.