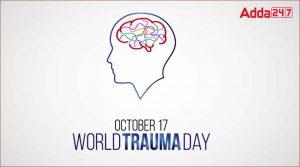 Every year, October 17 is celebrated as World Trauma Day. The day is observed with a view to prevent the increasing rate of accidents and injuries causing death and disability across the world. The day was created in New Delhi, India, in 2011. This was a result of the high number of deaths caused by road accidents in the country, an estimate of over 400 people lost their lives each day to it. Road Traffic Accident (RTA) is the leading cause of trauma across the world.
Bank Maha Pack includes Live Batches, Test Series, Video Lectures & eBooks
World Trauma Day 2022: Significance
On World Trauma Day, people the world over come together to commemorate those that have died or become injured due to violence and trauma or accidents. Furthermore, the day emphasizes the importance of prevention and how everyone can contribute to making the world a safer place.
The day provides a platform for people to share their stories, learn from one another, and raise awareness of the problem of violence and trauma in their communities. Candlelight vigils, workshops, and educational programs are held throughout the world. Unfortunately, there are very few solutions to the problem of violence and trauma. Still, we can all help make a difference by coming together on World Trauma Day.
World Trauma Day: History
World Trauma Day was established in 2011 in New Delhi, India. This is because the number of deaths due to traffic accidents in Korea is high, and According to an estimate, it has been seen that more than 400 people die every day. Therefore, this day was created to reduce the number of injuries and deaths, as well as the consequences of damage to the country and the world as a whole.
Road accidents account for one of the most common types of traumatic experiences in the world. In addition, experiences that stem from primary military operations, domestic abuse, and sexual assaults follow in the aftermath. Repeated or mishandled trauma can lead to Long-Term Stress Disorder (L.T.S.D.). Accounts dating back to the early 20th century describe an in-depth look at the disastrous effects that traumatic events can cause.
World War II inspired advancements to the way trauma is understood. Soldiers were later allowed to take a break from the conflict to get rid of their heads and return to the fight later on. In addition, trauma-related cognitive therapy began to flourish during the Vietnam War and Korean War.