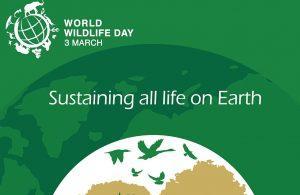 World Wildlife Day is observed globally on 3rd of March every year to celebrate the beautiful and varied forms of wild fauna and flora present on earth. The World Wildlife Day also raise awareness about the benefits that the conservation of wild fauna and flora provides to people living on earth. The day also reminds us of the need to fight against wildlife crime and human-induced reduction of species causing various wide-ranging economic, environmental and social impacts. The year 2020 is also known as "biodiversity super year".
The World Wildlife Day 2020 will be celebrated with the theme:
Sustaining all life on Earth
The theme of World Wildlife Day 2020 aligns with Sustainable Development Goals 1, 12, 14 and 15 of the United Nations. It also aligns with the wide-ranging commitments on reducing poverty, ensuring sustainable use of resources, and on conserving life both on land and below water to stop biodiversity loss.