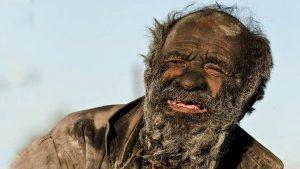 Amou Haji, an Iranian man dubbed the "dirtiest man in the world, " died at the age of 94 in the village of Dejgah, in the southern province of Fars. He was so-called because he had not washed for almost 70 years and he believed that staying dirty kept him alive for so long. Owing to his unique record, a short documentary titled 'The Strange Life of Amou Haji' was made in 2013, describing his life.
Bank Maha Pack includes Live Batches, Test Series, Video Lectures & eBooks
A report published in Tehran Times also claimed that Haji would eat roadkill, smoke a pipe filled with animal excrement, and believed that cleanliness would make him ill. Haji used to live in an open brick hut and he had faced some "emotional setbacks in his youth" that made him stern about not taking a bath with water or soap.
Dirtiest man In India:
In 2009 the Hindustan Times reported that Kailash "Kalau" Singh, from a village outside the holy city of Varanasi, had not washed for more than 30 years in an attempt to help end "all the problems confronting the nation".