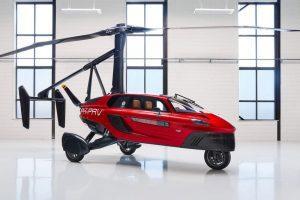 World's first commercial flying car named 'PAL-V Liberty' will be developed in Gujarat, India. PAL-V stands for Personal Air-Land Vehicle. The PAL-V Liberty is a combination of a car and an autogiro, or gyroplane.
A Memorandum of Understanding was signed in the presence of Gujarat Chief Minister Vijay Rupani between state Industries Principal Secretary MK Das and Carlo Maasbommel, vice president of PAL-V's international business development. Dutch company PAL-V (Personal Air and Land Vehicle) will develop this car.
The PAL-V flying car, having two engines, can run at a speed of 160 kilometres on road and can fly at a speed of 180 km. The car can turn into a flying vehicle in just three minutes and cover a distance of 500 km on a full tank.
Important takeaways for all competitive exams:
Chief Minister of Gujarat: Vijay Rupani; Governor of Gujarat: Acharya Dev Vrat.
Gir Forest National Park and Wildlife Sanctuary, also known as Sasan Gir, is a forest and wildlife sanctuary near Talala Gir in Gujarat, India.
The Sardar Sarovar Dam is a gravity dam on the Narmada river near Navagam, Gujarat.
Find More Miscellaneous News Here