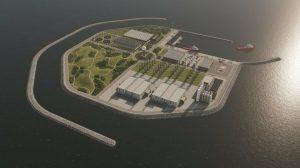 The Government of Denmark has approved a project to build the world's first energy island, in the North Sea that will produce and store enough green energy to meet the electricity needs of three million households in European countries. The hub will strengthen the integration of Europe's power grids and increase renewable electricity production necessary for a climate-neutral Europe.
WARRIOR 5.0 Batch for SBI, RRB, RBI and IBPS Exams Banking Awareness Online Coaching | Bilingual
About the hub:
The energy hub will serve as an offshore power plant gathering and distributing green electricity from hundreds of wind turbines surrounding the island directly to consumers in countries surrounding the North Sea. It is the long-term ambition to be able to store green electricity on the island, convert it to liquid green fuel, and send it via subsea cables to Denmark and neighbouring countries.
Facts about the energy islands:
The artificial island will offer the best opportunities to expand the project, for example by building a harbour and facilities for storage and conversion of green electricity from the nearby wind turbines in the sea.
The first-of-its-kind giant island will be as big as 18 football pitches (120,000sq m).
A broad coalition of Danish parties have decided to establish two energy hubs and associated offshore windfarms. One as an artificial island in the North Sea and one at the Danish island Bornholm.
An energy hub serves as a hub that collects electricity from the surrounding offshore windfarms and distributes the electricity between countries connected via the electricity grid.
Furthermore, the abundance of offshore wind energy can be used to produce climate-friendly fuels for shipping, aviation, heavy industries, or heavy-duty vehicles.
The two hubs initial capacity will be 5 GW triple the current installed offshore capacity in Denmark. Later they will be expanded to provide a capacity of 12 GW in total.
The deal also established a final phase-out date of fossil extraction by 2050 and laid out plans for a just transition of impacted workers.
Denmark is currently the largest oil producer in the EU, and it is the biggest producer worldwide to establish a final phase-out date so far.
Important takeaways for all competitive exams:
Denmark Capital: 

Copenhagen.

Denmark Currency: 

Danish krone.