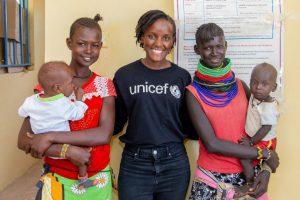 United Nations International Children's Emergency Fund (UNICEF) appointed Vanessa Nakate, a 25­-year­-old climate activist from Uganda as the Goodwill Ambassador of the UN Children's Fund (UNICEF). Her collaboration with the organisation and recognising her outstanding global advocacy for climate justice for current and future generations.
Bank Maha Pack includes Live Batches, Test Series, Video Lectures & eBooks
Nakate began her activism in January 2019 with a protest with her siblings and cousins on the streets of Kampala, inspired by Greta Thunberg. She continued to protest every week, becoming a well-known face in a movement of young people "striking" for the climate around the world. In 2020 she came to further global prominence when she was cropped out of a news photo she appeared in alongside Thunberg and other white climate activists. Nakate's response to the incident, in which she said the news outlet "didn't just erase a photo, you erased a continent", made international headlines.
Notably:
Globally half the world's 2.2 billion children live in one of the 33 countries, classified by UNICEF's Children's Climate Risk Index as "extremely high­risk" of the impacts of climate change. According to UNICEF, the top 10 countries are all in Africa.
Important Takeaways For All Competitive Exams:
UNICEF Founded: 1946;
UNICEF Headquarters: New York City, USA;
UNICEF Director General: Catherine M. Russell;
UNICEF Membership: 192.
Find More International News