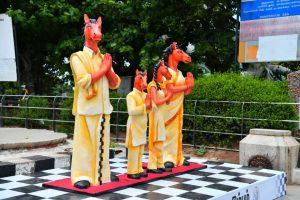 The team Uzbekistan has won the gold medal in the Open section of the 44th Chess Olympiad which concluded. Team Armenia won silver while the India-2 team settled for bronze in Open Section. In the women's section, Ukraine won the gold medal. Team Georgia won the silver, while the India-1 team won the bronze medal.
Commonwealth Games 2022: India's Final Medal Tally and Rank
44th Chess Olympiad:
The 44th Chess Olympiad was organised by the International Chess Federation or World Chess Federation (FIDE) in Chennai, India from July 28 to August 09, 2022.
India hosted the Chess Olympiad for the first time. It consisted of open and women's tournaments.
The total number of participants was 1,737, including 937 in the Open and 800 in the Women's event.
Overall 188 teams were registered from 186 nations in the Open section and 162 from 160 nations in the Women's section.
The main venue of the Chess Olympiad was the convention centre at the Four Points by Sheraton.
The opening and closing ceremonies were held at the Jawaharlal Nehru Stadium.