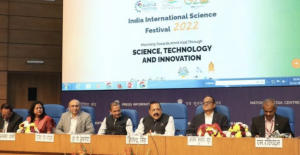 India International Science Festival (IISF)-2022:
India International Science Festival (IISF)-2022 will be held in Bhopal in January 2023 and incidentally, it is one of the major events to be held after India took over G-20 Presidency. IISF is the initiative of the Ministry of Science & Technology and Ministry of Earth Science of Government of India in association with Vijnana Bharati which is a science movement with swadeshi spirit led by eminent scientists of the country. The IISF 2022 is the eighth edition since its inception in 2015.
Buy Prime Test Series for all Banking, SSC, Insurance & other exams
India International Science Festival (IISF)-2022: Key points
It is a festival to celebrate the achievements of India's scientific and technological advancements with students, innovators, craftsmen, farmers, scientists and technocrats from India and abroad.
It also provides opportunities to people and scientific fraternity in the country and abroad to come together, work together and experience the joy of doing science for the wellbeing of India and humanity.
There will be fourteen events organized during these four days which will be running parallel with the participation of more than 8,000 delegates from across the country. More than lakhs of local visitors will witness the festival and will remember the festival for its unique grandeur and creativity in science.
IISF has evolved progressively through its innovative design of programs and activities connecting various aspects of life to science. The number of participants from India and abroad has grown steadily with every edition and the journey is on involving more and more people to attain the desired outcome.
This year's IISF will also witness "Vigyanika", the Science Literature Festival where several programs related to the various genre will been organized. As a new feather to the cap, two-day Student's Innovation Festival (SIF22), is added to IISF 2022.
SIF22 would provide an avenue for showcasing innovative products, projects, and ideas developed by Students, we see the best technology being incubated here. The International Science Film Festival of India (ISFFI) will be another highlight of the festival and will promote in recognizing the efforts of filmmakers and motivate them to develop scientific and innovative content.
About the India International Science Festival:
The first and second IISF were held in New Delhi, the third in Chennai, the fourth one in Lucknow, fifth in Kolkata, sixth through virtual mode and the last one IISF was held in Goa which witnessed a footfall from over 5 lakh people worldwide. The pandemic in 2020 due to Covid-19 posed a serious challenge for the conduct of this annual event, but the challenge was overcome by conducting the event on a virtual platform to maintain the uninterrupted flow of journey.
Find More News related to Summits and Conferences