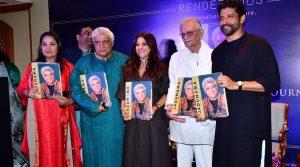 Jadunama, a book written on veteran writer-lyricist Javed Akhtar by Arvind Mandloi, was released. Javed's wife, actor Shabana Azmi and children Zoya and Farhan Akhtar were present at the book launch. Farhan's wife, actor Shibani Dandekar also attended the event. Jadunama is about a writer, poet, lyricist, and political activist. It is also about this one man's struggle since childhood to become what he is today and to create a hallmark of success in everything he does.
Buy Prime Test Series for all Banking, SSC, Insurance & other exams
The essence of the book:
Named Jadu at birth, it was Javed sahab's father, Jan Nisar Akhtar's poem, 'Lamha, lamha kisi jadoo ka fasana hoga (Every moment will be the story of a certain magic)' that was the inspiration behind the name. When the little boy was in kindergarten, everyone realised that Jadu was not a serious name and to have a word as close to Jadu as possible, he was renamed Javed (meaning 'eternal'), Akhtar (meaning 'star')—Eternal star! Not only has he remained in the limelight ever since, he continues to shine brightly like the eternal star! The recipient of several awards during his lifetime, notable among those being the Padma Shri (1999); Awadh Samman Uttar Pradesh (2001); the Indira Gandhi Rashtriya Ekta Puraskar (2005); and the Padma Bhushan (2007), Javed Akhtar, through his work—be it in the cultural milieu, or when it comes to fighting to give the writer his due—has always put his best foot forward. Full of rarely known information and delightful anecdotes, Jadunama opens a wide window into Javed Akhtar's life journey, as it steadfastly refused to follow a timeworn narrative, or take any well-trodden path.
Propelled by the winds of humanism, Javed sahab is like that ship sailing in the sea that has cast its anchor in the many ports of Time. Having reached far along in life and even though he has achieved whatever there is to achieve, Javed Akhtar firmly believes that where one has reached cannot be one's destination. The destination is always a little further ahead and as long as it is further ahead, one is alive, one is moving forward, as aptly summed up in this sher: Hamarey shauq ki inteha thi Qadam rakha kii manzil raasta thi This ship, as is evident, is still in sail.
Find More Books and Authors Here