Dear Students & Friends,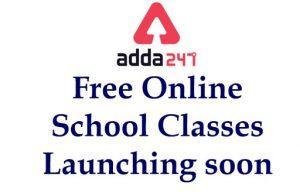 Coronavirus has caused a panic situation across the world and everyone is impacted by it: children, adults, old age people from all walks of life. On government advice and for our own safety we have to stop gathering in groups and avoid crowded places for quite some time into the future.
Colleges, universities, coaching centers, malls, theatres, markets, etc are closed. Offices are allowing work from home to safeguard employees and also the business has to carry on.
Your beloved Adda247 teachers, content experts and all tech, product, support teams are also working 24×7 from home to ensure studies don't suffer.  These are all necessary steps to stop the spread of Coronavirus.
Amidst all this how do students who are still at school continue their learning? They and their parents are worried about the future in this uncertain scenario. Students at this level still need lots of active guidance from teachers as this stage defines their next journey into the colleges too.
Adda247 has been preparing students to get government jobs for 10+ years and more than 10 crore students have interacted with our platforms during this time. Success stories of lakhs of our students make us happy and bring more energy in our team for putting in more effort.
In these tough times, we want to help students who are in these critical years of the school from class 9th – 12th. First focus for us is our Hindi speaking students in non-metro areas.
You may have brothers and sisters in those classes, or in your neighborhood, who reach out to you for guidance. This is the time you get them on your trusted platform Adda247 for continuing their studies online.
We would like to understand from you more about such students and their real education requirements. Please fill the form here to share your inputs.
Once we have collected all the inputs, we will plan accordingly and start the classes quickly to help these students.
We trust that you will help us in this journey as you have trusted us so far in making us India's top government job preparation platform.