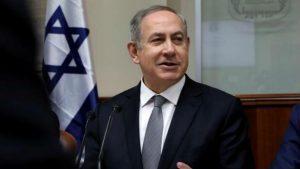 Prime Minister Benjamin Netanyahu has won the Israeli national election, securing a record fifth term in office, after a controversial power-sharing deal with rival-turned-partner Benny Gantz. President Reuven Rivlin officially granted Netanyahu, two-week mandate to form his government, following which, Netanyahu announced the formation of his coalition government on 17 May 2020.
Under the three-year coalition deal:
Netanyahu will serve as Prime Minister for the coming 18 months, which would keep him in power until November 13, 2021.
Till then Benny Gantz will serve as the Defence Minister of the country.
After 18 months, both of them will swap their roles and Netanyahu will become Defence Minister while Gantz will be the new Prime Minister.
Important takeaways for all competitive exams:
Capital of Israel: 

Jerusalem.

The currency of Israel: Israeli shekel.