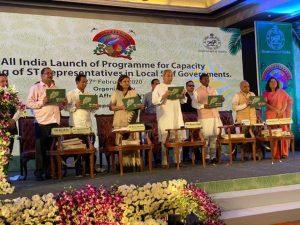 A Programme for Capacity Building of Scheduled Tribe Representatives in Local Self Governments has been launched in Bhubhaneswar, Odisha. The programme was launched by the Union Tribal Affairs Minister Shri Arjun Munda. "1000 Spring Initiatives" and an online portal on GIS-based Spring Atlas with hydrological and chemical properties of the Springs were also launched during the event. FRA Atlas of Odisha and short documentary film on FRA in Odisha were also released on the occasion.
About "Capacity Building Programme for Scheduled Tribe Pri Representatives":
The Capacity Building initiative aims to empower the tribal PRI representatives by improving their decision making capabilities at local government level. It also stresses on constitutional and legal provisions that safeguards and supports the rights and welfare of the tribal population. The above programme will also ensure the participation of ST PRIs representatives in planning, execution and monitoring of policies and programmes launched by the government.
About '1000 Springs Initiative':
'1000 Springs Initiative' aims to improve the accessibility of safe and adequate water for the tribal communities who are living in difficult and inaccessible areas of rural India. Springs are basically natural sources of groundwater discharge which have been used extensively in the mountainous regions across the world as well as in India. The '1000 Springs Initiative' includes the provision of infrastructure for piped water supply for drinking; accessibility of water for irrigation and provision for water for backyard nutrition gardens, which is also expected to generate sustainable livelihood opportunities for the tribal people. The initiative will support in harnessing the potential of perennial springs' water which can also be used to address the natural scarcity of water in tribal areas.
Online portal on GIS-based Spring Atlas
Online portal on GIS-based Spring Atlas has been introduced to improve the accessibility of these data easily from an online platform. Currently the data of more than 170 springs is being available on the Spring Atlas.
Important takeaways for all competitive exams:
Chief Minister of Odisha: Naveen Patnaik; Governor of Odisha: Ganeshi Lal.