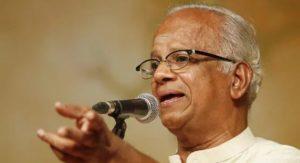 Renowned Carnatic musician, TV Sankaranarayan has passed away. He was 77. He was the torchbearer for the Madurai Mani Iyer style of Carnatic music. He had shared several stages with Madurai Mani Iyer. He won the Madras Music Academy's Sangeeta Kalanidhi Award in 2003 and was honoured with the Padma Bhushan in 2003. He was the son of musicians Tiruvalangal Vembu Iyer and Gomati Ammal.
Bank Maha Pack includes Live Batches, Test Series, Video Lectures & eBooks
Sankaranarayanan was born in Mayiladuthurai in 1945 after Madurai Mani Iyer had shifted his base there due to the evacuation in Chennai during the Second World War. The family returned to Chennai in the 1950s and Sankaranarayanan studied law, though he opted for a full-time career in music.