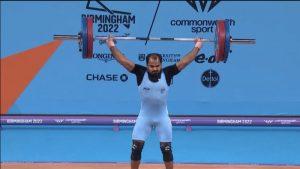 Indian weightlifter, Gururaja Poojary has won a bronze medal in the men's 61kg final at the Birmingham Commonwealth Games 2022. Poojary successfully pulled off a combined lift of 269kg, (118kg in snatch and 151kg in clean and jerk) to ensure India's second medal of the Games. The Indian lifter registered a score of 118 (kg) in Snatch and 151 (kg) in Clean & Jerk to put forward a total of 269 (kg) at the event and claim the third podium place. He was involved in a close battle with Canada's Youri Simard but managed to beat him in the end for the medal.
Commonwealth Games 2022 Medal Tally
Malaysian, Aznil Bin Bidin Muhammed wins gold with a commonwealth games record of 285 Kgs. 127 Kg in snatch and 158 Kg in clean and jerk. Papua New Guine, Morea Baru bagged the silver medal with a total effort of 273 kg.
About Gururaja Poojary:
Karnataka's, Gururaja Poojary (born 15 August 1992), also known as P. Gururaja, is an Indian weightlifter who won the silver medal in the men's 56 kg weight class at the 2018 Commonwealth Games in Gold Coast, Australia.