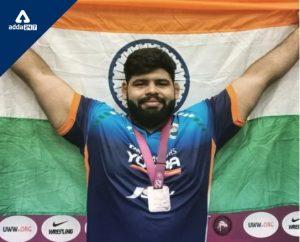 Indian grappler, Mohit Grewal has clinched the bronze medal in the Men's Freestyle 125kg in the Commonwealth Games 2022 after defeating Jamaica's Aaron Johnson. Grewal defeated Johnson 5-0 in the bronze medal match. He bagged the medal in only three minutes and 30 seconds. Mohit started his campaign on a winning note against Alexios Kaouslidis of Cyprus in the quarterfinal bout but lost to eventual champion Amarveer Dhesi of Canada in the semi-final.
Commonwealth Games 2022 Medal Tally
So far India has won 26 medals in the ongoing games with nine gold, eight silver and nine bronze medals. India is now expecting medals in boxing, badminton, table tennis and hockey. India won the most number of 10 medals in weightlifting, including three gold. Australia is at the top of the medal's tally with 50 gold, 43 silver and 45 bronze medals. The Commonwealth Games 2022 games will conclude on August 8.