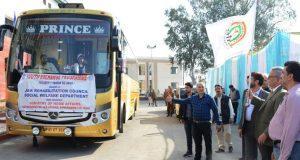 J&K Advisor to Lieutenant Governor, Farooq Khan flagged off a group of students from across Jammu and Kashmir and Ladakh Union Territories for a ten-day tour 'Watan Ko Jano', a youth exchange programme.
This programme has been organised by Jammu and Kashmir Rehabilitation Council, Department of Social Welfare under the aegis of Department of JK Affairs, Government of India. Through this programme, children will get an opportunity to visit monuments and places of historical and cultural significance in Delhi, Jaipur, Ajmer and Pushkar. It is a great opportunity for these children and the unique feature of unity in diversity of great nations like India. This tours expose children to different cultures and areas of the country and go a long way in their overall personality development.
Important takeaways for all competitive exams:
Lieutenant Governor of Jammu and Kashmir: Girish Chandra Murmu.
Lieutenant Governor of Ladakh: Radha Krishna Mathur.
Find More Miscellaneous News Here