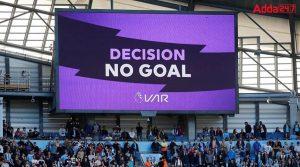 The upcoming Under-17 Women's World Cup 2022 in India will see the Video Assistant Referee (VAR) technology making its debut in the age-group showpiece, world football governing body FIFA announced. The prestigious tournament, which was given the go-ahead by FIFA after lifting the 11-day-long suspension of the All India Football Federation (AIFF), will be held in Bhubaneswar (Kalinga Stadium), Margao (JLN Stadium) and Navi Mumbai (DY Patil Stadium) from October 11-30.
Bank Maha Pack includes Live Batches, Test Series, Video Lectures & eBooks
About the VAR technology:
The VAR technology supports the decision-making process of the referee in four game-changing situations: goals and offences leading up to a goal, penalty decisions and offences leading up to a penalty, direct red card incidents, and mistaken identity. Throughout a match, the VAR team constantly checks for clear and obvious errors related to these four match-changing situations. The VAR team communicates with the referee only for clear and obvious mistakes or serious missed incidents.
Things to remember:
The U-17 Women's World Cup in India will be the third FIFA women's tournament to utilise VAR following the U-20 Women's World Cup Costa Rica 2022 and the FIFA Women's World Cup France 2019.
This will be the second time the VAR technology will be used in India, the first one being from the quarterfinal stage of the AFC Women's Asian Cup the country hosted in January-February this year.